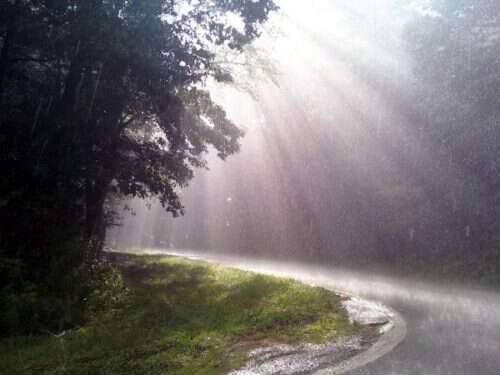 B. Ruth's comment on my recent post Sun Drawing Water:
Yes, I have heard that all my life…but that "God was drawing water!" One time I painted a lake scene with dark clouds…I showed it to my art teacher, he said "Did you purposefully draw the rays of the sun thru the clouds going down to the ground?"…"Course I did…they are drawing water!" He laughed and said, "I don't know about that!" and a few other comments about my shafts of light..Kinda broke my heart, as I was sorta proud of the effort…You know what, just for spite, I didn't change it and still have that painting today…"Please teachers, give students some kind of encouragement, even if you differ in their beliefs…After all, art is in the heart and mind of the artist as well as the viewer!!…
My first emotion after reading B.'s comment was a touch of anger at an art teacher who would squash a student's artistic creativity by bringing into question her beliefs.
After I got over being a little put out by B.'s teacher, I noticed she most often heard the sun rays referred to as "God drawing water" instead of Granny's phrase "sun drawing water."
My thoughts on the sun drawing water made me think of other sun related sayings in Appalachia
If the sun shines while its raining (like in the photo above) it's said the Devil is beating his wife.
If the sun rises brightly on Old Christmas-the coming summer will be good for fruit trees and bushes.
If the sun shines while it's raining-it'll rain at the same time the next day.
It will rain the following day if the sun sets with clouds.
Red sky in morning sailors take warning Red sky at night sailors delight (I know this one is common all over the world)
If you lay a black snake over a fence or tree with its belly facing the sun-it will soon rain.
We even use the sun in a few of our colorful sayings:
Why he thinks the sun rises and sets in his hind end!
Happy as a dead pig in sunshine.
The sun don't shine on the same man all the time or The sun don't shine on the same dog all the time.
In Appalachia we often say sundown and sunup instead of sunset and sunrise.
I'm positive I left out much on the subject of sunshine-please add any folklore or sayings by leaving a comment!
Tipper