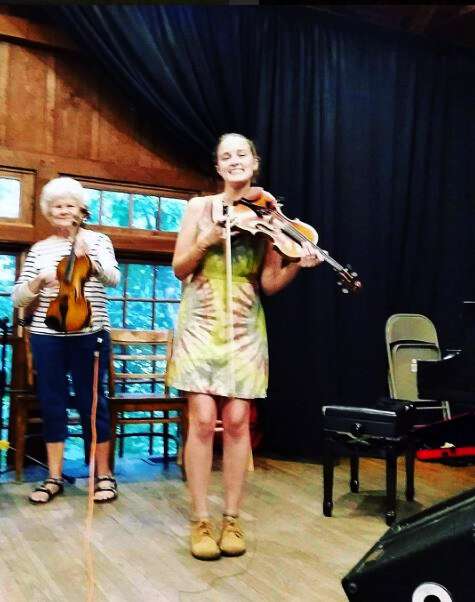 Chitter JCCFS – Dance Musicians Week 2016
Due to the generosity of anonymous donors, Chatter and Chitter got to participate in the John C. Campbell Folk School's Dance Musicians Week again this summer. This wonderful gift of love has been going on for a few years now and we are still totally blown away and amazed by it.
A good while back I told you a story about running into a lady I hadn't seen in ages. In case you missed it, this is how it went.
I ran into a lady I hadn't seen in ages and we got to talking about what was going on in our lives. As we finished talking, she said she better git, she was going to babysit and didn't want to be late. She said she enjoyed staying with the little one, but he was awful spoiled. Then she said, "Oh don't get me wrong I love that baby to death, but I was spoiled with love not with getting my way."
Spoiled with Love. I've had that thought on my mind since the very minute the lady said it. Most of the time spoiled has a negative connotation to it. If someone is spoiled they are hard to be around; if something is spoiled it needs to be discarded. My friend taught me to use the word in a new way: Spoiled with love. The expression so fits how I was raised and I believe it fits how we're raising our girls. Spoiled with love but taught to respect, to work, to help, and to be grateful.
The phrase spoiling with love also describes perfectly the anonymous folks who believe in the girls and their music enough to encourage them through gifting them a spot in the John C. Campbell Folk School's Dance Musicians Week class. Just the thought makes tears of gratitude spring forth from my eyes every time I think on it.
Each night of Dance Musicians week the folk school holds a contra dance. It's a great feature of the week on two fronts: all those student dance musicians have dancers to play for and the community gets to hear what they've been learning while dancing up a storm.
Chitter took this short video while sitting on the stage playing with students from the class. Click on the video to start it-then you'll need to click on it again to stop it.
When she posted the video she asked the question "Can you feel the music?" My answer "Yes I can feel the music and more importantly I can feel the love."
Tipper