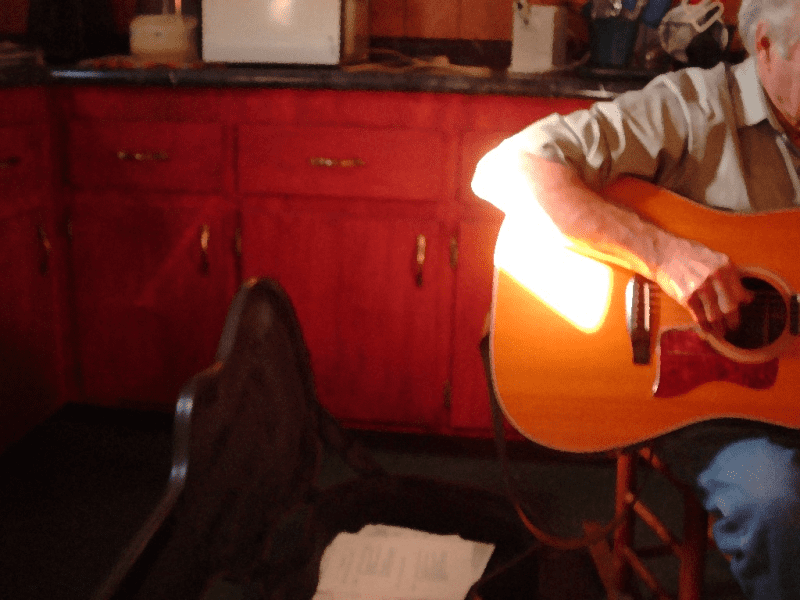 Little Bessie is a traditional song, no one knows for sure who wrote it. As with many old songs-the words and verses in Little Bessie change depending on who's performing it. There's an interesting thread of comments about the song on Mudcat Cafe-you can go here to read them.
In a nut shell-the thread discusses the possibility of Little Bessie being as old as 1860 but a few entries later a commenter claims the song was written by a lady who lost her 4 year old daughter, Bessie to a fire in the 1920s.
One of the more interesting comment entries quotes the liner notes from one of Ricky Skaggs albums, Ancient Tones:
Here is another song that I first heard from the Stanley Brothers. I loved their version very much. Then, one day, I found an old songbook that had many more verses to it than what they had recorded. I asked my dad if he knew anyone who could sing the old mountain style version of 'Little Bessie'. He said he thought he did. So we went down the road to a neighbour's house. Their names were Alvie and Vernie Fyffe. Vernie knew the old way of singing that song. So I learned it from her. One of the blessings of having my own record label is that I can have the freedom to make the music that I want to make, even if it is ten minutes long.

LITTLE BESSIE
(Traditional)

Hug me closer, mother, closer
Put your arms around me tight
For I am cold and tired, dear mother
And I feel so strange tonight

Something hurts me here, dear mother
Like a stone upon my breast
Oh, I wonder, mother, wonder
Why it is I cannot rest

All the day while you were working
As I lay upon my bed
I was trying to be patient
And to think of what you said

How the king, dear blessed Jesus
Loves his lambs to watch and keep
Oh, I wish he would come and take me
In his arms that I might sleep

Just before the lamps were lighted
Just before the children came
While the room was very quiet
I heard someone call my name

All at once a window opened
On a field of lambs and sheep
Some far out in a brook were drinking
Some were lying fast asleep

In a moment I was looking
On a world so bright and fair
Which was filled with little children
And they seemed so happy there

They were singing oh so sweetly
Sweetest songs I ever heard
They were singing sweet, mother,
Than our darling little birds

But I could not see the Saviour
Though I strained my eyes to see
And I wondered if He saw me
Would He speak to such as me

All at once a window opened
One so bright upon me smiled
And I knew it must be Jesus
When he said, Come here my child

Come here, my little Bessie,
Come up here and live with me
Where little children never suffer
Suffer through eternity

Then I thought of all you told me
Of that bright and happy land
I was going when you called me
When you came and kissed my hand

And at first I felt so sorry
You had called and I would go
Oh, to sleep and never suffer
Mother, don't be crying so

Hug me closer, mother, closer
Put your arms around me tight
Oh, how much I love you mother
And how strong I feel tonight

And the mother pressed her closer
To her own dear burdened breast
On the heart so near its breaking
Lay the heart so near its rest

At the solemn hour of midnight
In the darkness calm and deep
Lying on her mother's bosom
Little Bessie fell asleep

Source: Ricky Skaggs 'Ancient Tones' Skaggs Family Records SKFR-CD 1001
Little Bessie fits into the music genre of ballads. Appalachia is commonly associated with ballads. Not everyone likes the songs-I do like them-more than that-I love them.
I've talked about my love for ballads before here on the Blind Pig-tried to reason out exactly why I love those sad, often violent songs. Perhaps my attraction comes from a feeling of "there but for the grace of God go I", a morbid fascination with death, or the satisfaction of knowing someones life is worse than mine. Then again maybe it's because while I'm listening-I can vicariously live out a range of emotions-fear, outrage, despair, -then when the song is over, I get to go back to the sunshine.
Ron Pen, from the University of KY, has this to say about Ballads:
The ballad form originated in Europe during the Middle Ages and was firmly established in the British Isles by the fifteenth century. By the early eighteenth century, the composition of new ballads in Great Britain had tapered off, but the British ballad tradition was transported to the New World by emigrants. Formal collection and study of the British ballad repertoire dates to the late nineteenth century, when Harvard scholar Francis James Child collected and categorized 305 ballads in a series of books, The English and Scottish Popular Ballads (1882–98).

Child ballads generally utilize a single opening stanza to introduce the setting and the principal characters. The story then unfolds rapidly to a point of confrontation, followed by a resolution presented through third-person narrative or dialogue.

In Appalachia, Child ballads were traditionally performed by a solo singer without instrumental accompaniment, though in later years a fretted dulcimer, guitar, fiddle, or banjo was sometimes used to accompany the singing. Although the language of ballads is dramatic, the singing style in Appalachia tended to be objective and detached, allowing the story to tell itself without the influence of an emotional delivery.

Additionally, the ballad tradition of telling a story in song continues to be an essential ingredient of country and bluegrass music. Many popular traditional ballads, whether performed within folk revivalist circles (for example, "Darling Cora") or in popular music circles all over the world ("House of the Rising Sun"), have reentered circulation or gained wider distribution following collection (and publication and/or recording) from Appalachian balladeers.
Now that I've told you more than you wanted to know about the song-give our version a listen.
You'll notice we don't do even half the verses mentioned in the Ricky Skaggs quote-most people don't-and we do at least one that he doesn't even list. I believe Pap and Paul's version is closest to a recording done by the Country Gentlemen. But even our version changes.
I uploaded the video above several months ago, but last Sunday at our weekly pickin and grinnin sessions-Paul threw in one of the other verses. Once the song was over, we mentioned it-and Paul said "No I always sing that verse." Pap and I informed him he was wrong-and I told him I had the video to prove it!
Of course I'm prejudice-but I love our version. Pap's tenor is chilling-Paul's flat top picking is amazing-and with only one chord for me to play-my bass doesn't sound half bad either.
So are you a ballad lover too?
Tipper
Ballads." (2012) In Encyclopedia of Appalachia, Retrieved May 21, 2012, from Encyclopedia of Appalachia: http://www.www.encyclopediaofappalachia.com/entry.php?rec=31