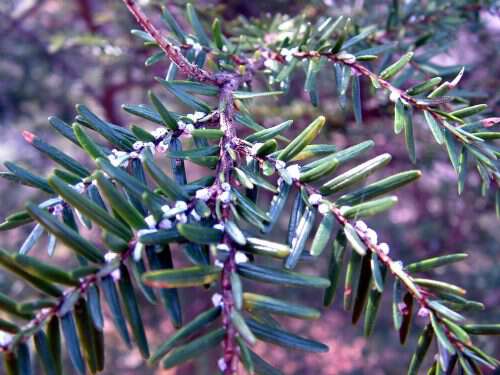 Have you ever heard of Wooly Adelgid? Even if you haven't heard the name-you've probably seen the damage done by wooley adelgids if you've spent any amount of time in forests which have a high percentage of Hemlock trees. See those little white spots in between the hemlock needles in the photo? Those little bits of white are evidence of wooley adelgids.
wool·ly a·del·gid
əˈdeljid/
noun
noun: wooly adelgid
1. any of several small aphidlike insects that feed on conifers, esp. hemlocks, spruces, and firs. By sucking the sap from young twigs, the insect retards or prevents tree growth and causes needles to discolor and drop prematurely.
According to the  Great Smoky Mountain National Park website, "The hemlock woolly adelgid has infested hemlocks on the Blue Ridge Parkway for about 10 years and in Shenandoah National Park since the late 1980s. In these areas as many as 80 percent of the hemlocks have died due to infestation."
When The Deer Hunter and I first moved into our house we had the red clay landscape of new construction. We planted grass, and I gathered cuttings of flowers and bushes from Granny to help fill in our red clay expanse. One day Granny watched the babies while Pap and I went up the creek. I carried a 5 gallon bucket and Pap carried a shovel. We came back with a bucket full of hemlock saplings which we planted all over my yard. Some of them lived, some died. The ones that lived became infested with wooly adelgids.
After seeing the wooly adelgid devastation which has occurred in parts of western NC, The Deer Hunter said "Let's cut them all down." I said "But me and Pap planted them so long ago I don't want to cut them down. Sigh…."
A few years later the girls had a field trip to the historic Glen Choga Lodge and I tagged along with their class. The caretaker took us on the grand tour-including the grounds. The towering hemlock trees that surrounded a small pond near the lodge were looking pretty puny. The caretaker said they had spent over $30,000.00 trying to save the hemlocks. He had high hopes the special treatment was working-but I sure couldn't tell it by looking at them.
In the mean time, my argument about Pap won out and we left our white spotted hemlocks alone. The hemlocks Pap and I planted so long ago seemed to falter beyond restoration for a while, but suddenly the trees perked right up and started growing again. The hemlocks are still thriving till this day.
Recently I discovered our colder than usual winter has helped all the hemlocks affected by wooly adelgid. Turns out adelgids can't take bitter cold-and scientists are hoping the low temperatures Appalachia has endured this year will stop the little buggers in their tracks-or at the very least slow their progress.
Tipper