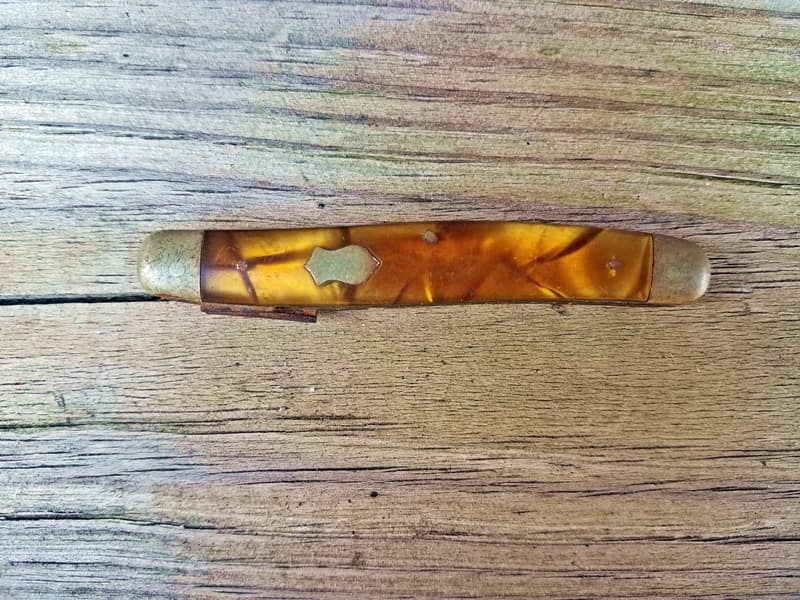 The other day my older brother Steve came up on the porch and said "I've brought you one of your daddy's knives." I held out my hand and he handed me an old beat up pocket knife.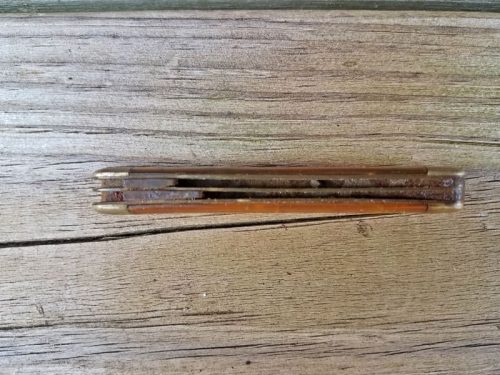 I said "Where in the world did you get that?" He said "Well its a strange story."
Back in the 70s a local man, who would have been a young man in those days, decided he was going to start working on knives for folks. He went around and asked if anyone had a knife that needed fixing and Pap gave him the knife. Obviously the young man never fixed it.
I'm still not exactly clear on this part of the story, but another man in Pap's church also gave knives to be worked on. Somewhere along the way he decided he'd get his knives back even if they weren't fixed and he ended up with Pap's too.
The Deer Hunter said the knife is an old Camillus. Steve said someone told him it was a German knife, but from the googling I did I think it is a Camillus.
As I held the knife I wondered how Pap broke both blades out of it—what he used it for.
Steve said "I'm telling you Daddy was hard on knives back then seemed like he was always breaking the blade out of one."
The day he brought the knife up to me. Paul and I had just been talking about Pap, wondering what he'd have to say about COVID-19.
Paul said Granny asked him what he thought Pap would say about it. He told her he didn't know but whatever it was it would have been interesting. A short time later Paul was talking to an old family friend on the phone and he said he'd like to have heard what Pap had to say about the virus because it would have been interesting.
I told Paul "Well I've been thinking about what he'd say too and wishing he was here to share his words of wisdom like he always did."
I remember one time I was peppering Pap about some old timey thing and he said "Tipper I'm glad you're interested in all this old stuff. If something ever happens you'll at least know where to start and maybe you can help the rest of them."
I hope this ain't the something Pap was talking about.
If things ever get back to normal I think I'll see if I can find someone to fix the knife.
Tipper
Subscribe for FREE and get a daily dose of Appalachia in your inbox