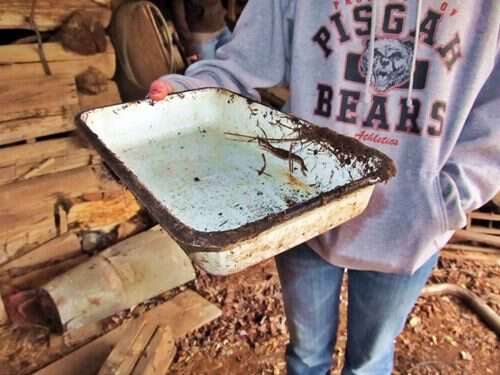 It's time for this month's Appalachian Vocabulary Test.
I'm sharing a few videos to let you hear the words and phrases. To start the videos click on them.
View this post on Instagram
1. Trifling: of little value or account, despicable; aggravating. "That boy is trifling and I can't see why in the world she's fooling with him."
View this post on Instagram
2. Top out: to reach the top of a mountain. "Once we topped out the view was glorious. The sunshine was bright even though the fog still lay thick down in the settlement."
View this post on Instagram
3. Tetched: crazy, feeble minded. "I'm afraid she might be a little tetched. Some of the things she says just don't sound right."
4. Toddick: a small amount. "Go down to Granny's for me and ask for a toddick of sugar. I didn't realize I was almost out and I already started the cake."
5. Twicet: Twice. "I've called her twicet in the last week and she didn't answer either time."
All of this month's words are beyond common here, except toddick. I know I've never used toddick and I don't believe I've heard anyone else use it either. Hope you'll leave me a comment and let know how you did on the test.
Today's Thankful November giveaway is two used copies of "The Foxfire Book" which is about hog dressing, log cabin building, mountain crafts and foods, planting by the signs, snake lore, hunting tales, faith healing, and moonshining.  For a chance to win one of the books, leave a comment on this post. Giveaway ends Tuesday December 4.
The winner of the "Wild Fare & Wise Words" is Linda who said: "Lovely collection of memories. This recipe sounds very much like one my mom made. I always preferred it over the fruitcakes. But then, apple pie is my favorite, too. And nothing like a sweet, crisp apple on a golden fall day. A family apple orchard would be a real treasure. Thank you for sharing the memories along with the recipe, Jim."
Linda please send your mailing address to me at [email protected] and I'll get the book to you.
Tipper
Subscribe for FREE and get a daily dose of Appalachia in your inbox