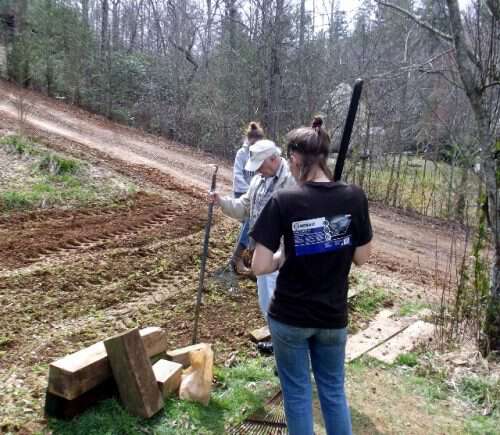 Sow True Seed has signed on to sponsor the Blind Pig & the Acorn's garden this year again-and I couldn't be happier!
A few weeks ago, Chitter and I planted Black Seeded Simpson Lettuce, Detroit Beets, Dwarf Grey Sugar Snap Peas, and Sparkler Radishes.
We have several small garden areas and a few raised beds at our house, then we share the big garden with Pap and Granny. The Deer Hunter usually uses a tiller to break up the ground in our bigger garden spots around the house-but my impatience to get early spring veggies in the ground usually means I turn those beds over good with a hoe when I first plant in the spring.
Sometime last fall, The Deer Hunter invested in a new (old) tractor to try and keep our driveway in better shape-of course taking care of gardening chores was also in the back of his mind. And a few weeks ago he was able to purchase a tiller attachment for his tractor.
I'm not sure my life will ever be the same…I mean how did I ever live without that tiller attachment?
I was about to tackle the beds with my hoe when he said "Why don't I use the tractor?" I said "Just for that little bit?" He said "Well ain't that why we got it-to use it?" I said "OK."
Me and Chitter moved the rocks and logs I had separating the small beds-and lickety split I had a plowed garden. All that back breaking work done-in no more than 7 or 8 minutes time. And oh how nice it made the dirt-loose, light, and deep!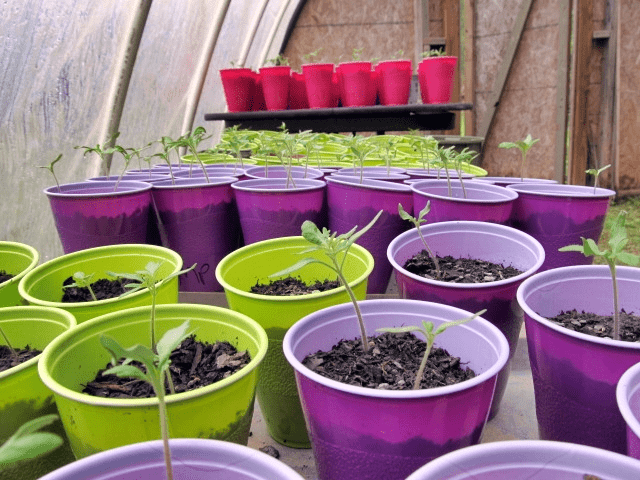 Skip back ahead to this past weekend, after fighting a miserable cold all week, we finally pulled ourselves outside Saturday. Everyone else beat me to it-I laid down and fell asleep on the couch. When I woke up I was all alone with no one left to answer my shouts of "Where's everybody at?"
I pulled on a sweatshirt got a glass of water and went to find them. I didn't have to look far-they were working in the greenhouse-cleaning out the grass that had grown up inside over the winter.
I sit in a chair and watched them until I was inspired to help. In a couple of hours we got all our tomato plants started. We planted: Cherokee Purples, Mountain Princess (the best tomato producer we've ever grown-with great taste too), Yellow and Pink Brandywines, and Cream and Sausage. Thanks to Sow True Seed-and to Cee we're getting to try a few new Tomato varieties as well: Green Zebra, Black Cherry, and Ox Heart.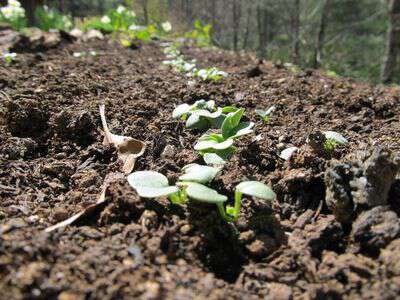 I was anxious to see if the seeds me and Chitter planted a few weeks ago, survived all the consecutive nights of freezing temps-I know spring veggies can stand the cold-but it's been really cold here in southern Appalachia. But as you can see from the photo above-the seeds are up and doing good.
After the girls made us a quick lunch of left over deer meat wraps we all felt energized to tackle another project. The Deer Hunter worked his magic with his new tractor attachment and before you knew it we had a brand new garden patch. We mixed in a couple wheel barrels of mushroom compost and planted 2 rows of onions around the edges-Chitter is studying on what she wants to plant in the rest of it-I'm pushing for watermelons but we'll see.
By this point we were all about to drop-but I said "You know it's supposed to rain tomorrow, it'd really be good if we could get Granny and Pap's little gardens plowed too."
After a general pep talk we decided we could do it-so me and the girls headed down to move all the rocks, boards, and poles from Pap and Granny's gardens and The Deer Hunter followed us on his tractor.
We got lettuce, peas, and 8 rows of onions planted for Pap and Granny. I don't know who was happier Granny thinking about how good those fresh veggies will taste or all of us for having the chore finished.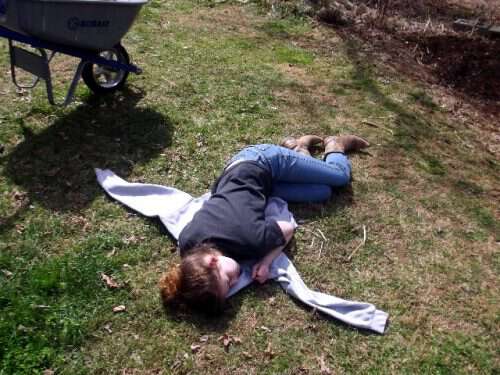 There were a few rests along the way. Granny scolded Chatter for laying on the cold ground saying she'd catch her death of cold-Chatter said "In the current situation I don't think that will matter much Granny."
We were beyond tickled with everything we managed to get done-especially since we had been feeling so bad. I think it did us all good to be out in the fresh air surrounded by the beauty of spring. The only downside to the whole thing is-after me and Granny seen how well The Deer Hunter's new tiller attachment works-there may not be a piece of yard left within a few square miles.
Tipper