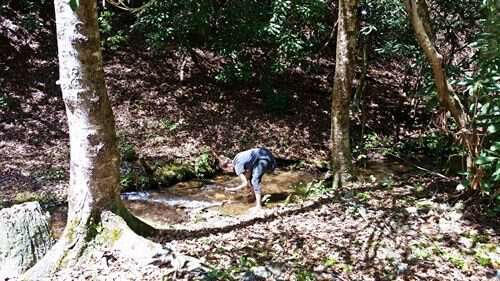 Ever since Chitter started setting creek rocks in silver you can't keep her out of the Stamey Branch. Seems like every time I turn around she's gone to the creek or hauling a bag full of rocks up the driveway. She's been going so many times that she's even got Granny to talking about it. When I came in from work yesterday Granny told me "Oh you ought to just see how many Chitter got today. She found the most rocks she's ever found! I just can't get over it!"
Now most of the time Granny don't want Chitter no where near the creek where she might fall and get hurt or heaven forbid get bit by something…like a snake or catch poison oak. But we're all so excited over Chitter's new line of jewelry that even Granny is wanting her to find more rocks to set.
As you might imagine not just any ole creek rock will do. It needs to have certain specifications so that it will fit firmly in the setting. And then there are the Chitter specifications. She says the rock has to speak to her before she'll put it in her strainer to bring home to her workbench.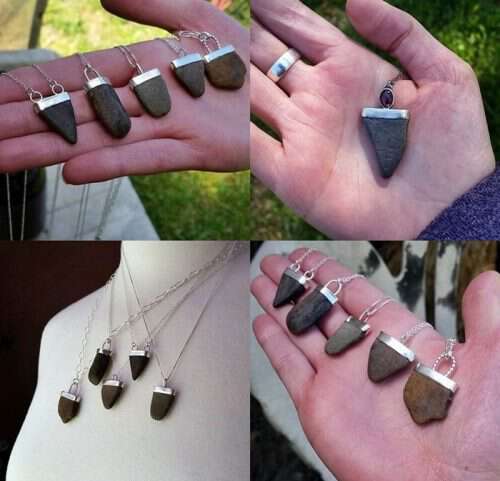 Chitter's already sold quite a few necklaces and I can see why. It's such an original idea to set creek rocks in silver and then there's the whole wear a piece of the Blue Ridge Mountains around your neck to remind you of the mountains appeal of the pieces. In fact this is what one proud owner had to say about it:
"My husband ordered one for me and it came today. I LOVE it so much and it has such special meaning because we have had a home in Banner Elk for about 20 years now and he knows what a rock/stone/wood/stumps…lover I am. 
 Thank you for sharing your talents and creations. I will cherish my little piece of Stamey Creek for the rest of my days. We love our mountains! 
"
I wore one of her prototypes to work the other day so that a few folks could look at it. Having it on gave me a feeling of being connected to the mountains. I'm sure my feeling partially came from the fact that Chitter is mine and that the rock came from my mountain holler. Yet I still see how having a piece of the mountains around your neck would make anyone feel connected in the same manner the new owner above described.
If you'd like to pick up your own Stamey Branch rock necklace or buy one for someone special jump over to Chitter's Stamey Creek Creations Etsy Shop. And if you've got a question about the pieces you can reach Chitter at [email protected]
Tipper
Appalachia Through My Eyes – A series of photographs from my life in Southern Appalachia.
Subscribe for FREE and get a daily dose of Appalachia in your inbox