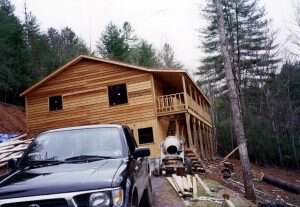 Do you have air conditioning? We do-however at the moment-it's broken. Back in the day, when The Deer Hunter built our house-we couldn't afford central air-but 7 years ago he could stand the heat no longer and he and a friend installed central heat and air in our house. Apparently-I've grown very used to it-cause for the past 2 days I have been quite miserable. At bedtime last night-it was 84 degrees in our living room-not the best temperature for sleeping.
When I was growing up, Granny and Pap didn't have central air-actually they still don't. (they do have 2 window units-one in the living room one in the bedroom) The girls can't remember the days when we didn't have air conditioning and they have complained much about our current situation. I've been trying to convince us it really isn't that hot-and so what if it is-didn't we live without air conditioning before? Aren't we tough? But I haven't won any of us over. It's funny how you get used to things-how fast our bodies become accustomed to the good life.
In the hot summers of my youth-Granny's kitchen was like a sauna-canning and cooking intensified the heat and gave the air a steamy heavy quality that made it difficult to breathe.
As I cooked super last night-and fretted about how hot I was and how hot I was making the house-my mind begin to think back to my Granny Gazzie-and other women of her era. Once I turn my stove off-the heat dissipates fairly quickly-can you imagine using a wood cookstove? By the time you got it fired up enough to cook on it-you'd be sweltering to say the least. But those little ladies like my Mamaw Marie and Granny Gazzie-cooked every meal on a cookstove-and canned on them too.
Last night as we readied for bed, my mind begin to think of how we could cool down the house. Growing up we had fans situated all over the house. You know those old metal fans that sounded like a helicopter starting up? It seemed someone was always screaming "be careful or you'll get your fingers cut off". Paul and I tormented Granny by putting our faces inches in front of the fan and screaming-the fan blades made our voices vibrate into a true staccato.
Hopefully I'll be back to the cool side of life soon-but until then-got any keeping cool tips?
Tipper