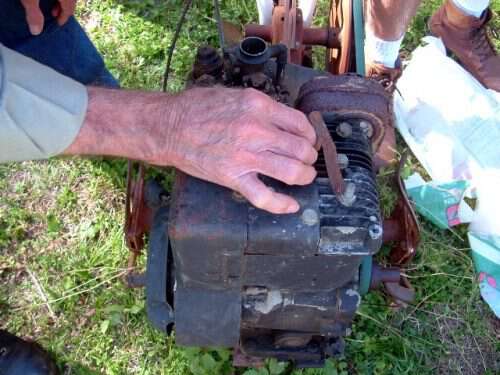 One of the first times we met at Pap's big garden to work earlier this year we encountered a mystery. Someone had cut the spark plug wire off one of Pap's tillers. It was just gone. Completely gone. We looked around to see if whoever cut it off left it laying around, but found nothing. We wondered why anyone would cut it off. Was it just pure meanness or some kid bothering things they shouldn't?
I said "Well all our kids are big enough to know better." Pap said "Maybe they were down here slinging something around and they accidentally cut it off." I said "I don't think so." Paul said "I bet it was a dog." Pap and I both questioned why a dog would bother a tiller, but Paul continued saying he bet it was a dog.
Pap has several old tillers so they got a spark plug wire off one of them and replaced the missing one. We were going to crank one of the other old tillers so two of us could till at once to make short work of what needed to be done and do you believe the spark plug wire was cut off it too?
The discussion resumed. Who in the world would do such a thing? Personally I let my imagination run. As I scanned the ridge line above the garden, I began envisioning a dark figure slipping through the woods intent on destroying Pap's tillers. Paul stuck to his theory it was a dog and said he bet he knew which annoying dog it was-Molly.
Two hours after we started that spring evening The Deer Hunter rolled in from work and between him and Paul they got the garden tilled and with the help of the rest of us we got the taters planted.
So did we ever find out what happened to the spark plugs? Yes. Paul was right-it was Molly.
Since then she's has added to her destruction list by chewing the throttle cable off another tiller and the pull cord on one of Steve's lawnmowers as well.
Molly is known for barking at cars, Pap thinks she fears anything that runs and when no ones around she takes her vengeance out on those running things she can easily attack-the tillers and the lawnmowers.
Paul is still lording it over Pap and me that he was right in the first place.
Tipper
Appalachia Through My Eyes – A series of photographs from my life in Southern Appalachia.