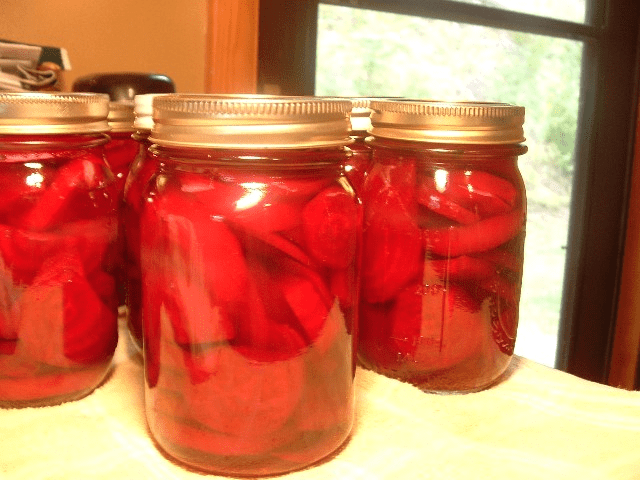 Thanks to Hometown Seeds-we had a bumper crop of beets this year. Along with roasting them in the oven-we canned several runs of pickled beets.
A few of you may remember, last year-Miss Cindy taught me how to peel, cook, and make refrigerator pickled beets-this year there were too many beets to leave in the frig.
I looked online-and in several cookbooks trying to find an easy recipe for pickled beets. Many of them called for onions and other things that just seemed too complicated to me. I finally found a simple recipe in my Ball Blue Book of Preserving-and after trying it-I'm positive it's the one we'll use from now on.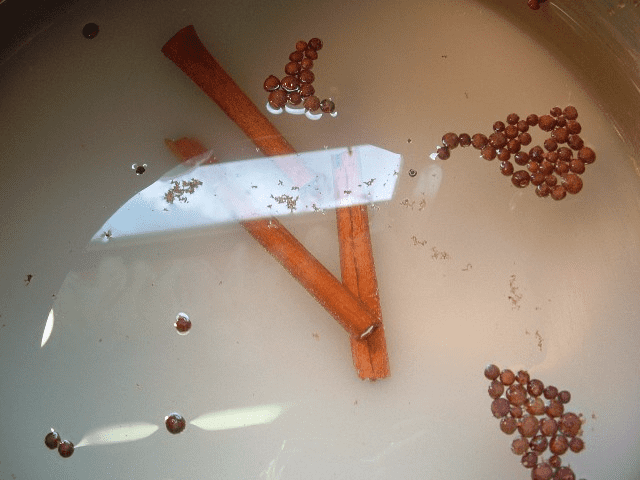 The recipe calls for 3 quarts of beets-it says that's about 24 small ones. None of mine were the same size-I had gigantic ones and little bitty ones too.
I cooked and peeled them the way Miss Cindy showed me last year-it's so much easier to peel them after they're cooked. Then I sliced them-and measured to see if I had 3 quarts-I had 6 quarts-so I doubled the recipe and it worked out perfect. (the measurements below-are for 3 quarts of beets)
In a large stock pot combine: 2 cups of sugar, 2 sticks of cinnamon, 1 tablespoon of whole allspice, 1 1/2 teaspoons salt; 3 1/2 cups vinegar, and 1 1/2 cups water. Bring the mixture to a boil, then reduce heat and simmer for 5 minutes. The recipe says to remove the cinnamon sticks at this point-but I just left them-making sure I didn't put them into one of the jars.
While the pickling mixture is simmering heat/sterilize your jars. The Deer Hunter likes to heat his in the oven-I use a dishpan full of simmering water.
Pack the sliced beets into the jar; Ladle the hot pickling mixture in the jar leaving a 1/4 inch headspace; attach lids and rings.
The recipe says to process pints and quarts 30 minutes in a boiling water canner-which we did.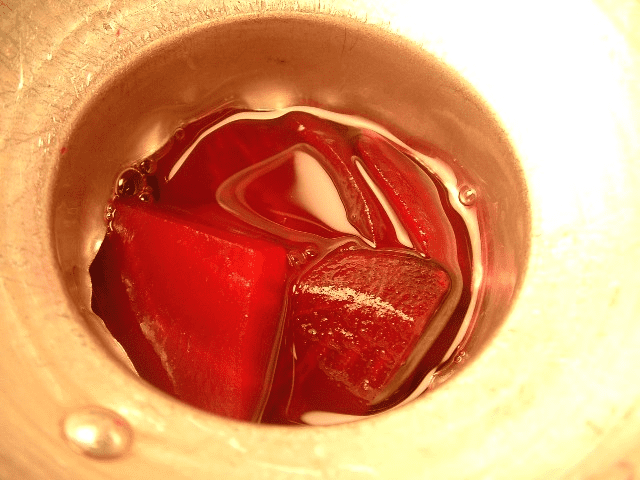 The first day of canning beets-The Deer Hunter had to take over after I came down with a migraine-so he canned the first bunch and I canned the 2nd bunch-I guess that makes us even on the beet count if there is such a thing.
Do you like pickled beets? Do you think they taste like dirt? I do-and I still like them-so I'm not sure what that says about me.
Tipper