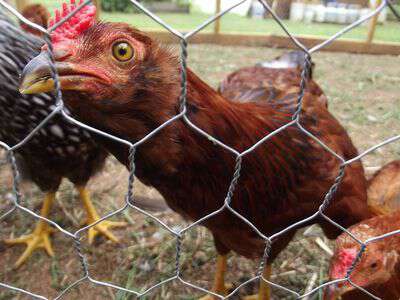 In early May of this year, The Deer Hunter brought home 7 baby chicks. We've wanted chickens for a long time-but I figured we'd wait till we had the coop built and everything situated for them-that isn't how it turned out.
Our 7 little chicks lived in the basement in a box with a light for warmth until The Deer Hunter got their chicken condominium built several weeks later. From day one it was a learning experience for us-and it still is. I grew up with chickens around Wilson Holler-but I was never responsible for taking care of them-and it was much the same for The Deer Hunter. His Grandparents who lived just up the road had chickens-but all he did was occasionally get flogged by them.
Our baby chicks came from one of The Deer Hunter's friends who raises chickens. 4 of them are a mixture of Rhode Island Red and Araucana. The other 3 are Silver Lace Wyandottes. Since the chicks were so small-we had no way of telling if we had all hens-all roosters-or a mixture. What we got was 3 roosters and 4 hens-at least we think they're all hens. (you can tell we're new to all this chicken stuff)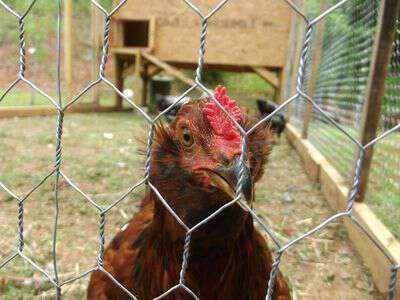 Rex the Rooster has taken charge of the chicken lot. He bosses everyone else around-and it's hilarious to watch. Can you see his sideburns?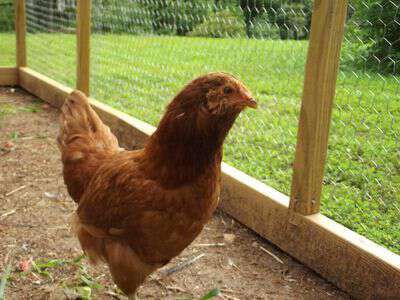 Polly is the prettiest chicken of the bunch-at least she is to me.
Getting the baby chicks before we got the chicken house and lot built put us in a bind. The Deer Hunter got the house portion built before the run was finished. He put the chickens inside the house while he worked on the run. He put doors in each end of the house where we could open them to check for eggs and clean out the house when it needed it.
While me and the girls watched him work-and helped when we could, it was hard to resist opening those doors to see what the little chicks were doing. Chatter opened one too far and out jumped Pretty Polly. She took off for the woods as fast as she could go.
Fussing at Chatter for opening the door and wild chasing of Polly both happened very quickly-all to no avail. Polly finally ended up just over the bank in the briar patch. We enticed her with food and water but she would not come. Chatter felt miserable because we all knew if we didn't get Polly back in by dark she'd be gone-either the neighborhood dogs would get her-or something else would.
Late that evening after the lot was finished, we were all in the house. We'd peek out the window to see if she would come back to the other chickens. Sure enough she eventually did. The Deer Hunter snuck out to see if he could catch her. He was on one side of the lot-Polly was on the other. Every time he moved she moved. Finally after about 30 minutes of the game-The Deer Hunter opened the door to the lot and Polly ran right in-I think she was as happy to be back in there as we were to have caught her!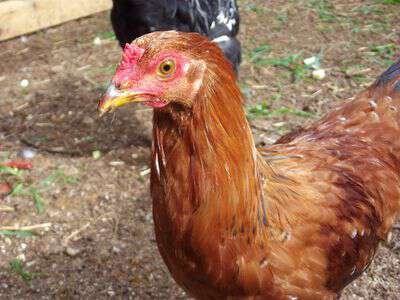 Meet Missy-the ugliest chicken in the bunch and the meanest. Now we're wondering if she is even a Missy-or if she should be named Mister.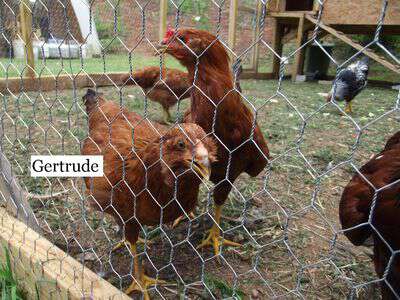 This is Gertrude-she looks sorta like Polly but not near as pretty somehow. She has sideburns too.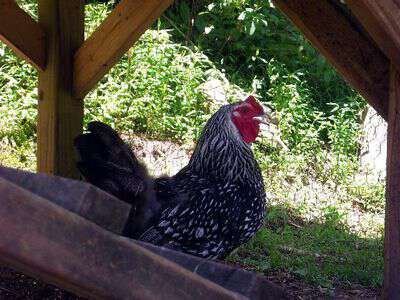 Nesta-the only hen from the Silver Lace Wyandottes is so shy you sorta forget she's there. In fact-out of the many photos I snapped of the chickens-this is the only one Nesta showed up in. You can see Rex is trying to push her around-he usually wins. But I'm hoping someday she gives him what for and puts him in his place.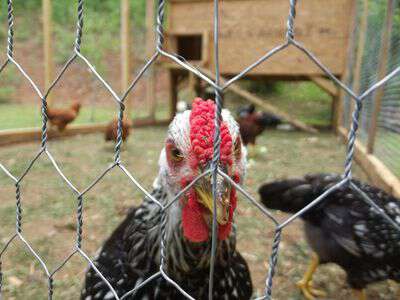 And lastly there are 2 roosters who look like this. We're not going to keep them-so we haven't named them. I think they know they'll soon be leaving the Blind Pig chicken coop-I hope they don't start a chicken mutiny before then.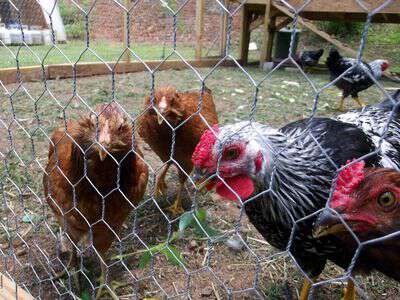 Who knew having chickens could be so much fun. We haven't even got the first egg yet-but we're more than glad that we got the chickens. When The Deer Hunter's friend gave him the baby chicks he said "Once you get chickens you don't need your tv anymore-the chickens are more fun to watch than anything thats on tv." He was right!
Tipper