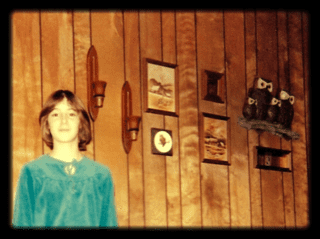 With Halloween just around the corner, this is the time of the year most folks start thinking about ghosts, witches, and black cats.
A recent eerie incident got me to thinking about how scared I used to get as a kid. Since I was the only girl-I got a room by myself while Paul and Steve had to share. Most of the time I was glad-but at night I often wished I shared my bedroom with someone too.
Sometimes at night I'd get so paralyzed with fear that I couldn't move-I felt like I couldn't breathe. I'd pull the covers up tight over my head and peek out every once in a while to see what was coming to get me. I'd beg Pap and Granny to leave the hallway light on so I wouldn't be so terrified.
What was I so scared of? Even now, all these years later, I'm still not sure. I don't think I was scared of ghosts or anything like that. I guess I was scared of someone breaking in and getting us all.
Summer nights were the worst. With no air conditioning all the windows were open-especially at night to catch the somewhat cooler air. On those nights my imagination really ran away with me-all those open windows with only a screen to stop some intruder from breaking in.
I never did myself any favors either-every scary movie that came on-I wanted to watch-which only made my fears worse. The Exorcist came on tv-Pap tried to tell me I'd be sorry if I watched it. Of course I didn't listen. I was so brave during that movie I didn't get scared a bit-until it was over.
No one would sleep with me-they all said it was my fault for watching it-which it was. I finally pitched a fit and said I was going to sleep in the hallway. I got my pillow and a blanket and settled down outside Granny and Pap's bedroom. Pap finally realized he wasn't going to get any sleep unless he slept with me-so he did.
Chitter and Chatter are totally different when it comes to be scared. The only thing I can remember Chitter ever being scared of-was when she was about 8 or 9 years old. For what ever reason she became terrified of being buried alive-it was like she was obsessed with it. You don't think being buried alive would come up much in daily life-but during that time it seemed it was all around us. Chitter finally came to grips with her fear and got over it.
Chatter is more like me. When she was about 3 years old she'd tell me "momma I'm scared of my house I'm scared of my house." At night she didn't want to go to the bathroom by herself, in one of the back bedrooms by herself, or especially down in the basement by herself.
My Papaw Wade (Pap's Father) was a big coon hunter. It seemed there was always a joke going around about one of the boys getting scared-somebody that was too scared to go back to the truck for something they needed or too scared to help round up the dogs. I remember one time some such incident had happened on their latest coon hunt-and Papaw was trying to tease one of the local boys about being scared of the dark. The boy said "no I'm not scared of the dark." Papaw said "well you must be you won't get 2 foot away from the fire"-the boy said "no I'm not scared of the dark I'm scared of whats in it." Papaw always got the last word-he told the boy-"what ever is in the dark is in the daylight too-so are you scared of the daylight too?"
Chatter saying "I'm scared of my house" is so funny and cute-but actually I think she had mine and her fear figured out at 3 years old. During the day a house is so full of noise and life-at night it seems so subdued and empty-maybe that's where our fear came from-simply the change atmosphere.
So what was your childhood fear?
Tipper