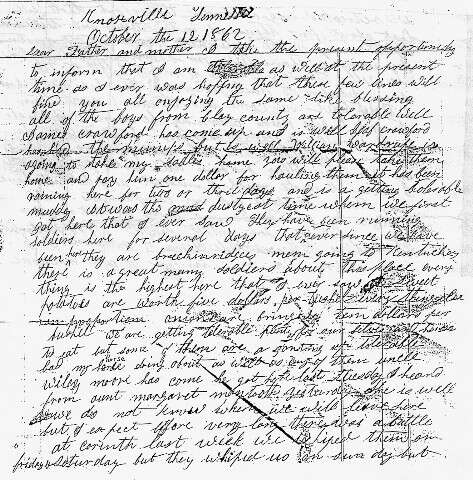 It's been way too long since we checked in with Civil War Solider W.C. Penland.
March 23 (on envelope) 1863
Headquarters 65th N C Regt
Zollicoffer Sulivan County East Tenn
Mr James H Penland
I set myself pen in hand to write you a few lines in answer to your kind letter which came to hand sometime ago   I have not answered it as soon as I would have but we have moved a good deal lately   we are stationed here to guard this bridge   I expect that we will stay here for some time   my health is very good at the present and in fact all of company is in tolerable good   all that were sick are on the mend   the last account we had of Arel Henson he was a getting better   we are not a getting much for our horses to eat since we come to this place   it is a very nice day here today    there has been a great deal of rain here lately   we are not doing much riding lately but are not a feeding much   I would like to be with you and talk with you but I can not do so and I will just rite   I have not had a letter from any of you at home in a month   I do not know whether you have not written or they have been miss placed   I would like to hear from there now   Uncle Wm Moores Company is to be here in a few days so I have heard but I do not know whether it is so or not   we are a looking for the Yankees to make a rade into this part of the country but I do not know whether they will or not   write to me as soon as this comes to hand and give the news in general   give my respects to all of my friends and acquantances and especially to all of the family
so no more at present but remains you affectionate brother ever
                               Wm C Penland
to James H Penland
——————-
This letter was especially interesting to me-because it is written to his brother James instead of to his Mother or Father. As in some of the other letters-we can see his longing to hear from home. I'm positive they wrote him often-I'm betting the letters they sent were lost along the way or as he said "miss placed".
One other thing I thought of concerning W.C.'s writing style. Has anyone else noticed-kids today don't learn to write in cursive? In this area-it's just not required. Chitter and Chatter are in their first year of High School-when they write an essay or something for school-it  often has to be typed-but most of the time they'll also accept a neatly written version-but cursive is not required (a good thing since they never learned to write in cursive). To not teach cursive writing seems so weird to me. I mean if they can't write in cursive how can they read it-it must look like Egyptian Hieroglyphics to them. But I guess if none of the kids across the nation are learning it-being able to read cursive won't be an issue in another decade or so.
What jumped out at you from the letter? Do kids in your area learn to write in cursive?
Tipper