On a snowy day last March the Blind Pig family embarked on our Shiitake Mushroom growing venture.
Once you inoculate the logs-it takes the mushroom spawn a good while to distribute through the logs and for mushroom growth to begin. Our log stacks are just beyond my clothesline-so every time I hang out clothes I glance over at them to make sure none have fallen. But other than that I haven't kept a real close eye on them-knowing it might be next summer before I got any mushrooms.
The remenants of the hurricane that flooded so much of coastal NC recently-gave us a few days of rain too. Last Sunday I started thinking about that rain and wondering if it did anything for our mushrooms. I went to check-and wow there was mushrooms growing everywhere!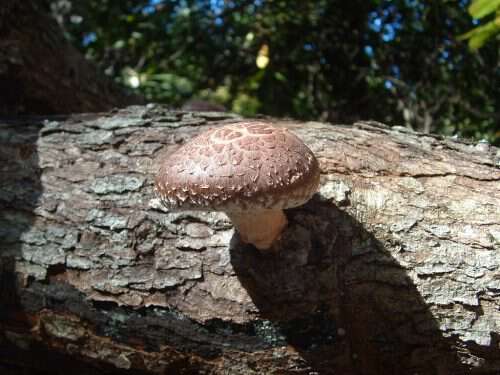 In just a few minutes-I had an ice cream bucket full. I ran back inside to show The Deer Hunter-to prove all our hard work late last winter was going to pay off big. He was impressed-but then me and him both started worrying what if they aren't the right mushrooms-what if they're POISON! Basically we let our imagination run away with us. I mean what else could they be-they look like Shiitake and we put Shiitake spawn in the logs.
But just in case I sent a few pics off to Frank from the MushroomPeople.com he assured me I should eat up-and enjoy the labors of our work. So I did and they were the best mushrooms I have ever eaten. (if you're interested in growing Shiitakes-the folks at MushroomPeople.com can't be beat for advice and low prices)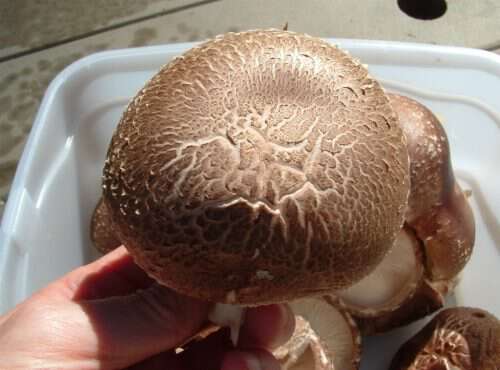 We're still planning on soaking the logs for 'forced fruiting' but I'm not sure we'll do it before next spring-since winter is on it's way with a chilly 33 here in Brasstown this morning. But when we start soaking-I'll be sure to show you the process.
Tipper