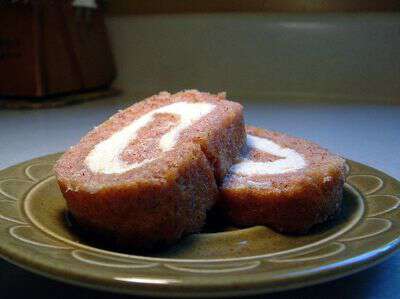 Over the years I've seen different recipes for Pumpkin Rolls-the one I use comes from a community cookbook-I bought it from one of my cousins when he was in elementary school-now he's in his 20s-time goes by way too fast. Community or Church cookbooks are my favorite kind-because you know the recipes were submitted by folks that actually made them-and actually liked them. Kind of tried and true recipes.
Pumpkin Roll
3/4 cup all purpose flour
1 cup sugar
1 tsp. salt
1 tsp. soda
1 tsp. cinnamon
2/3 cup of pumpkin
3 eggs
8 oz. cream cheese softened
1 cup powered sugar
1 tbs softened butter
1 tsp. vanilla
3/4 cup chopped nuts (optional)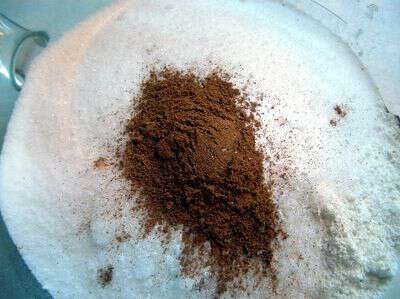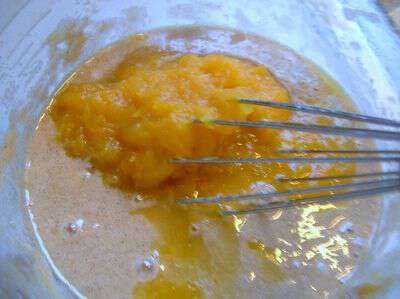 *mix flour, sugar, salt, soda and cinnamon;
*add pumpkin and eggs one at a time-mix well
*spray or grease cookie sheet (this one is 15 X 10-but sometimes I use one that is slightly larger); spread batter evenly on it; bake at 375 for 15 minutes or till done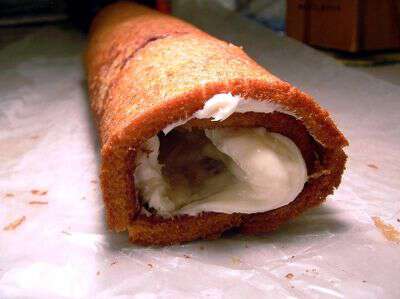 *after it cools slightly turn the pumpkin roll out onto a piece of wax paper or foil (mine doesn't always want to let go of the pan-so I use a spatula to loosen it); roll up the pumpkin roll length wise; wrap in wax paper or foil and refrigerate till chilled (a couple of hours)
*for the filling-mix together cream cheese, powdered sugar, butter, vanilla, and nuts if you want them
*unroll chilled pumpkin roll and spread with filling; re-roll, re-wrap and refrigerate till serving time or at least an hour; slice and enjoy
My favorite things about this recipe:
tastes great
looks fancy-even though it's so easy
you can make it ahead of time
if you happen to break the pumpkin part of it-the filling 'glues' your mistakes back together and it still look great
It's The Deer Hunter's favorite dessert
It really is delicious-if you give it a try let me know what you think.
Tipper
This post was originally published here on the Blind Pig in November of 2009.