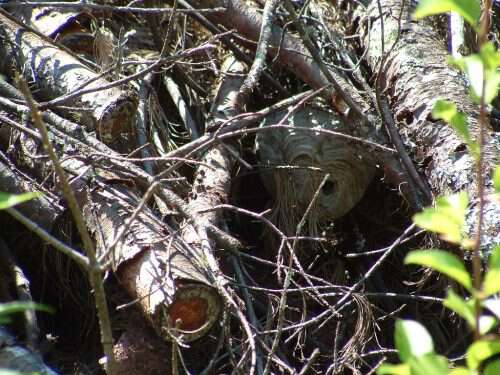 Can you see the hornet's nest? It's almost as big as a basketball. It's in a brush pile near our house. There was a nest in the same brush pile last summer-guess how I found it? I threw a watermelon rind directly in the center of it. Before I could even turn to walk back to the house-I was pulling hornets off my nose and lips-not fun. We've never had much of a problem with bees-until last summer.
This summer we've discovered 4 hornet's nests as big as the one in the photo around our yard. We've had so many waspers-that every time you walk down the porch steps one falls on you. And The Deer Hunter discovered a band of irate yellow jackets have taken up residence inside one of our block foundation walls.
The Deer Hunter sprays the bees-but they seem to come right back or simply move to the next available step, porch, or tree. He's also tried the sugar water trap method-which did nothing-and the old time way of pouring gas on the nest. The gas works-if you can conveniently get close to the nest-but if not you're just dousing gas everywhere. By far his favorite method of taking care of the huge hornets nests-is shooting them with a shotgun from the safety of an open window inside the house. Crazy-but effective.
One other strange occurance concerning the bees-they are overly attracted to The Deer Hunter. I've never seen anything like it-doesn't matter which variety of bee-they all seem to bomb dive his head as soon as he walks out the door. He's been stung more times than I can count this summer-me only once. Maybe they've all joined ranks to stop the man with the gun.
The other day I was telling Pap we had found yet another hornet's nest. Pap said "Well you know what finding that many nests in one summer means don't you? It means its going to be a bad winter."
Got bees?
Tipper
Appalachia Through My Eyes – A series of photographs from my life in Southern Appalachia.