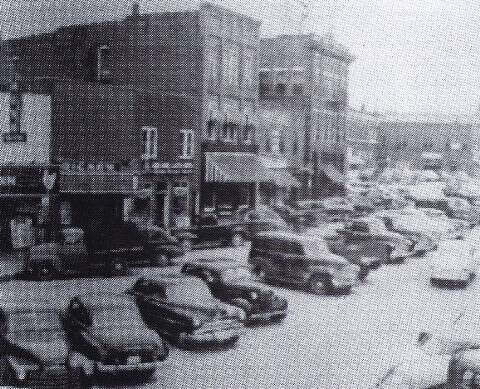 Murphy 1930s Courtesy of Cherokee Co. Historical Museum
Last Christmas Pap loaned me a book someone had bought him, Stories Behind the Best Loved Songs of Christmas. He knew I'd find the history of the songs interesting and I did-but I was surprised to learn, one Christmas song originated right here in my back yard.
John Jacob Niles was born in Kentucky on April 28, 1892. He was raised in a musical family and had a strong interest in music himself. By age 17 Niles begin composing original songs. Niles had an interest in folk songs and collected them from his fellow soldiers while serving in the military. He published 2 books from the collected songs Singing Soldiers and Songs My Mother Never Taught Me.
Niles life centered around music-collecting, recording, performing, and composing until his death on March 1, 1980.
1933 found John Jacob Niles in Murphy, NC. As he walked around town he noticed the police trying to evict some folks from the center of town. This is how he remembered the incident:
"I Wonder As I Wander grew out of three lines of music sung for me by a girl who called herself Annie Morgan. The place was Murphy, North Carolina,and the time was July, 1933. The Morgan family, revivalists all, were about to be ejected by the police, after having camped in the town square for some little time, coking, washing, hanging their wash from the Confederate monument and generally conducting themselves in such a way as to be classed a public nuisance. Preacher Morgan and his wife pled poverty; they had to hold one more meeting in order to buy enough gas to get out of town. It was then that Annie Morgan came out–a tousled, unwashed blond, and very lovely. She sang the first three lines of the verse of "I Wonder As I Wander". At twenty-five cents a performance, I tried to get her to sing all the song. After eight tries, all of which are carefully recorded in my notes, I had only three lines of verse, a garbled fragment of melodic material–and a magnificent idea. With the writing of additional verses and the development of the original melodic material, "I Wonder As I Wander" came into being. I sang it for five years in my concerts before it caught on. Since then, it has been sung by soloists and choral groups wherever the English language is spoken and sung."
The song, I Wonder as I Wander, is world famous-but until I read about it in Pap's book-I had never heard of it. Funny how the song came from just down the road-but never found it's way into my life until last Christmas.
For this Pickin' & Grinnin' In the Kitchen Spot-Chitter and Chatter give the song a try.
Like most towns, Murphy is decked out for Christmas. When I drive through town, seeing the tree and the lights, I find myself thinking of a little blond headed girl named Annie Morgan who knew what Christmas meant in 1933.
Have you ever heard the song?
Tipper