I've always wanted to "hop a train"-but have never ridden in a real train-as close as I've come is to ride in one of those sight-seeing contraptions at amusement parks.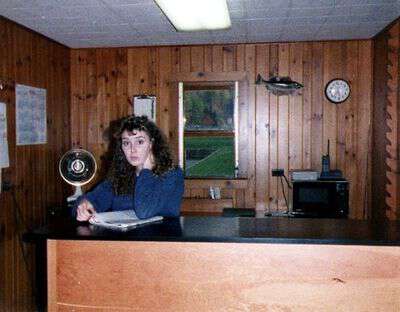 I became interested in logging railroads when I worked at Lake Logan in Haywood County, NC. At the time, the Lake was owned by Champion International (a paper manufacturing company). Lake Logan was built to facilitate production at the Canton paper mill in the 1930s. In addition, Champion used Lake Logan as a meeting facility. Folks would come for a conference or a workshop and also get to enjoy a little R&R-fishing, canoing, hiking-and party time in the Boojum Cave (the bar).
Along the hallway leading to the cave there were amazing pictures-enlarged to 3 or 4 feet in length-images of tough railroad logging crews from the early 1900s. The pictures defied logic-trains hanging on the steep mountains sides-hauling logs bigger than any I've ever seen.
During my days of Boat House attending-I was also being smitten by The Deer Hunter. We spent many days tramping through the Middle Prong Wilderness. In places you could see the remnants of the railroad-still lingering after all those years.
I'm still drawn to the picture of the railroad logging operation-at that point in history it was modern technology, it provided work for hundreds of loggers and for folks who serviced the loggers, it was loud, it drastically changed the landscape of the mountains, a whole town sprung up around it, in other words it was the biggest thing going.
Along side the first picture is a newer one-most of the acreage logged is now protected land, the timber is once again impressive in size, the town is gone. All that's left of the railroad are a few pictures, a few memories-only fragments of a time in history. The forests are now silent except for the occasional hunter, fisherman, or hiker-in other words it's almost like the logging railroad never existed.
The comparison between the two pictures is why I find history so fascinating. What once was in now gone-but sometimes if you look closely you can still see the imprint.
For this week's Pickin' & Grinnin' In The Kitchen Spot I've got a train song for you- Gordon Lightfoot's Big Steel Rail Blues. A song about a man wanting the big steel rail to carry him home to the one he loves.
Hope you enjoyed the song! Have you ever hopped a train?
Tipper