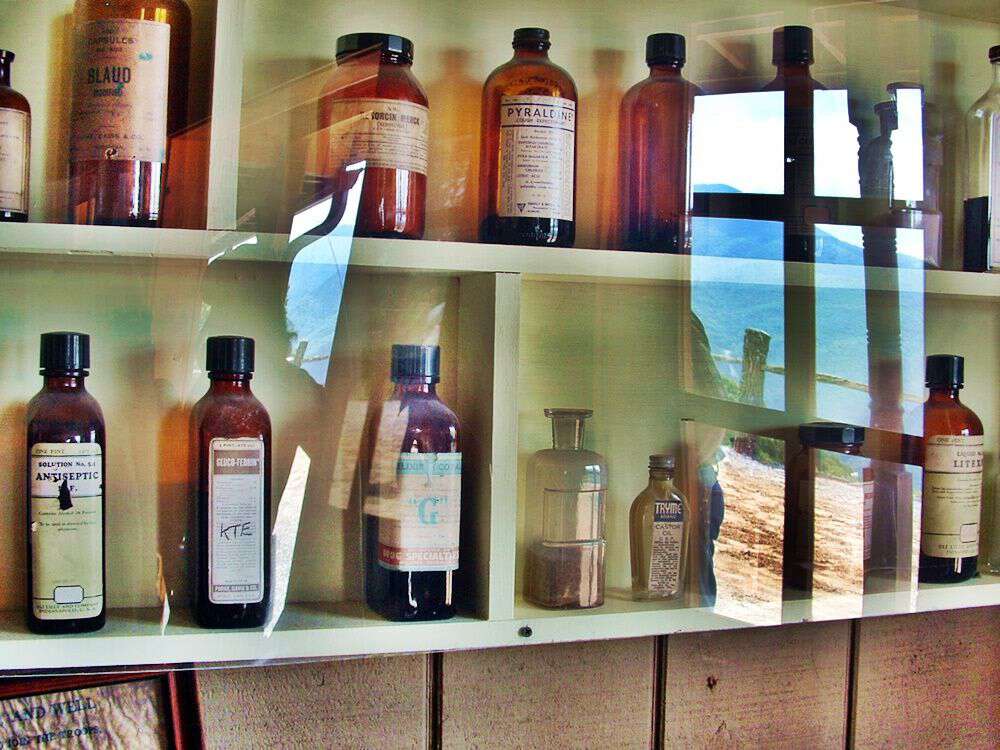 As far as sickness goes-last winter was the worst we've had since the girls started school. Illnesses started before Christmas and lasted clean till May. Chitter and Chatter had strep throat about 5 times between them-of course they never had it simultaneously-you know when just one of those expensive tests would have been enough to prescribe medication for both of them-no they had it individually, usually a few weeks to a  month apart.
So far this winter we've missed out on the sickness-well everyone but me. Apparently during all the Breaking Up Christmas and New Year's Contra Dancing I caught something. Something that will not go away. Coughing, sneezing, wheezing-folks around here call it the crud. Not sick enough to warrant a doctor visit-just enough to make you feel miserable.
Many parts of Appalachia are off the beaten path-and in years past that sometimes meant going to see a Doctor wasn't an option even if it was needed. But people did get sick and did need help-this led to many "home remedies" being used. A few old remedies:
For Chest Congestion:
Place rock candy in a little whiskey to make a thick syrup-drink a few spoonfuls several times a day
Make an onion poultice by roasting an onion-wrap it in a cloth-beat it until the juice soaks the cloth-then apply cloth to chest. (Pap's grandmother swore onions were the key to good health-she ate one everyday)
Render the fat from a polecat-eat two or three spoonfuls to bring up phlegm (I'm afraid that would bring up more than phlegm)
Take a flannel shirt and soak it with turpentine and lard-then wear it all winter (your family might make you live in the barn)
For Colds:
Boil pine needles to make a strong tea
Eat a mixture of honey and vinegar
Eat onions roasted in ashes
Suck salty water up your nose (the Deer Hunter does this even when he's not sick-he claims it makes it easier to breathe)
For Coughs:
Mix one teaspoon of white whiskey with a pinch of sugar-heat over a fire-and drink
Mix ground ginger with sugar-put on tongue just before bedtime to stop cough
Mix honey in hot tea and drink
Dissolve four sticks of horehound candy in a pint of liquor and take a couple of spoonfuls
For Sorethroats
Bake onions in fireplace and tie around your throat
Gargle with honey and vinegar
Gargle with warm salt water (Pap always made me do this when I was sick as a kid)
Take a sock a man has worn for a week of working and tie it around your neck (oh my)
To burn tonsils out paint them several times a day with iodine and turpentine (folks thought if you didn't have tonsils-it would cut down illnesses-kinda like having your tonsils removed today does. I've had some older folks tell me they don't have any tonsils-because they wasted away from being sick as a child.)
For The Flu
Boil 2 roots of wild ginger in a cup of water-strain and drink
Drink some of the brine from Kraut-it makes you thirsty and you drink lots of water-washing the sickness away
Anyone who has ever spent a sleepless night with a sick child, knows how helpless you feel. Imagine how you'd feel without modern medicine-no antibiotics, no fever/pain reducers to ease their suffering. I imagine the "homemade remedies" the old folks came up with made them feel less helpless-made them feel like they were at least making an effort-made them feel like they had something to believe in-a hope in getting their loved ones better.
It's funny to read through the old remedies-but some of them are not that far off from todays medicine. Many many of them include whiskey or liquor-but have you ever read how much alcohol is in cough/cold medicines-a lot. And Doctors today still suggest you drink warm tea with honey. I believe through trial and error past generations helped point modern medicine in the right direction.
Hope you'll leave me a comment and tell me if you have ever used any of the remedies.
Tipper
p.s. I used The Foxfire Book for reference.