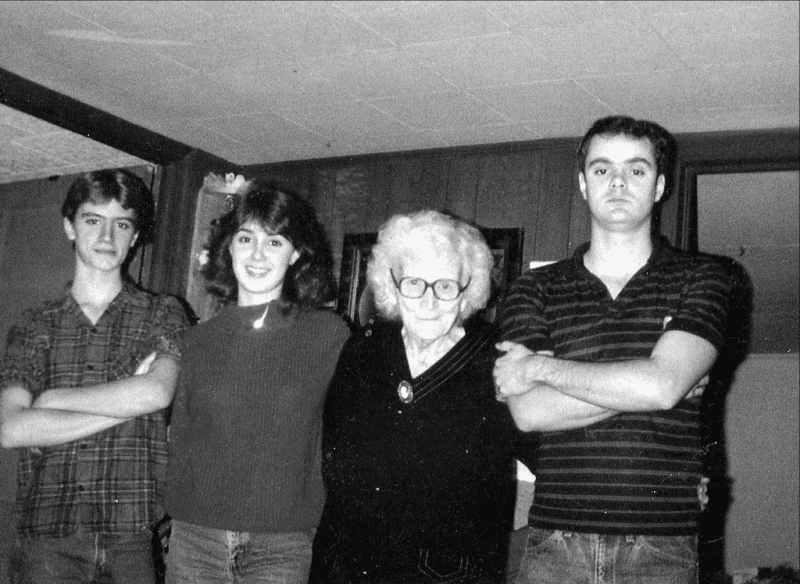 Paul, Tipper, Granny Gazzie, and Steve – Christmas 1980s
When the girls were small and couldn't find something they wanted to eat I'd send them down to Granny's and Pap's to see what they had. Actually the girls are still known to head down to Granny's for something to eat on occasion. There's usually leftovers in the frig, biscuits on the table, and cornbread on the counter. Not to mention, Granny has a stash of candy in a drawer and a supply of Little Debbies in a cabinet.
We lived too far away from Granny Gazzie to raid her house for food. Since I didn't spend as much time there as my girls do at Granny and Pap's I never felt comfortable prowling through her cabinets or drawers for a snack. But Granny Gazzie did have candy to share.
She always had orange slice candy, stick candy, and those foam looking peanut shaped things. I can never see those candies that I don't think of her offering me a piece, especially at Christmas time.
Over a year ago I came across a recipe for orange slice cake in my favorite Appalachian Cook Book: More Than Moonshine by Sidney Saylor Farr. The recipe immediately made me think of Granny Gazzie, but I never got around to trying it. A few weeks later Granny found the same recipe in the Nov/Dec issue of the NC Farm Bureau Magazine. She made the cake and shared it with us and Chatter just loved it!
You need:
1 cup margarine or butter (I used butter)
2 cups sugar
4 eggs
1/2 cup buttermilk with 1 tsp baking soda mixed in
3 1/2 cups plain flour
1 box dates chopped fine (I used the 8oz. box)
1 can flake coconut (I didn't have a can-so I used a cup of coconut)
2 cups chopped pecans
1 10 oz. jar maraschino cherries cut in half
1 pound orange sliced candy cut fine (I use the 14 oz bag)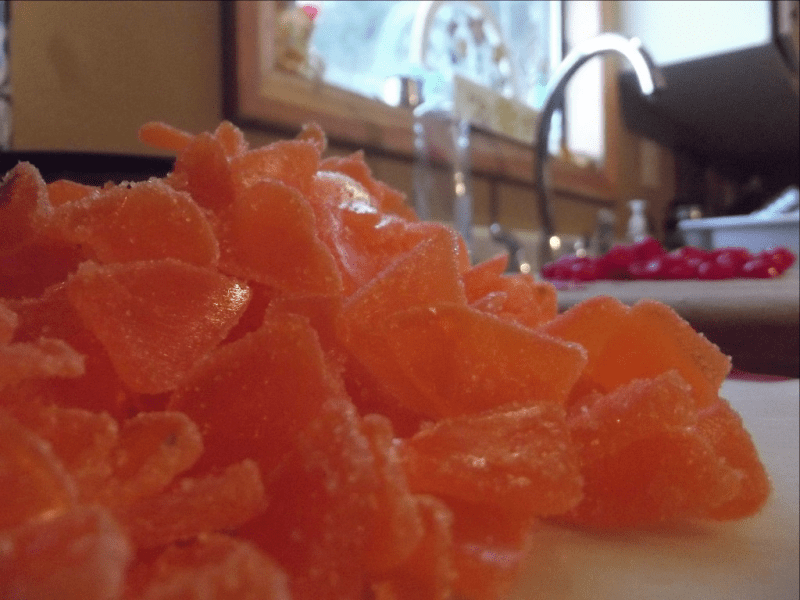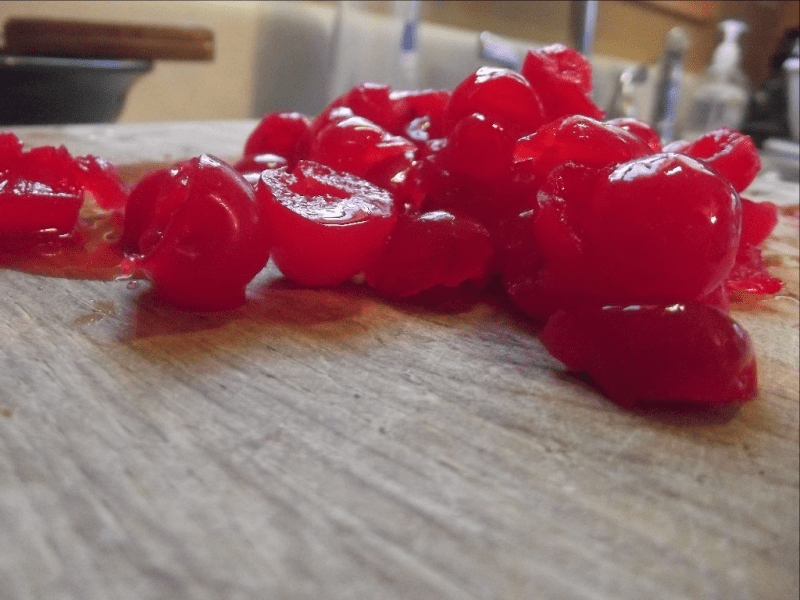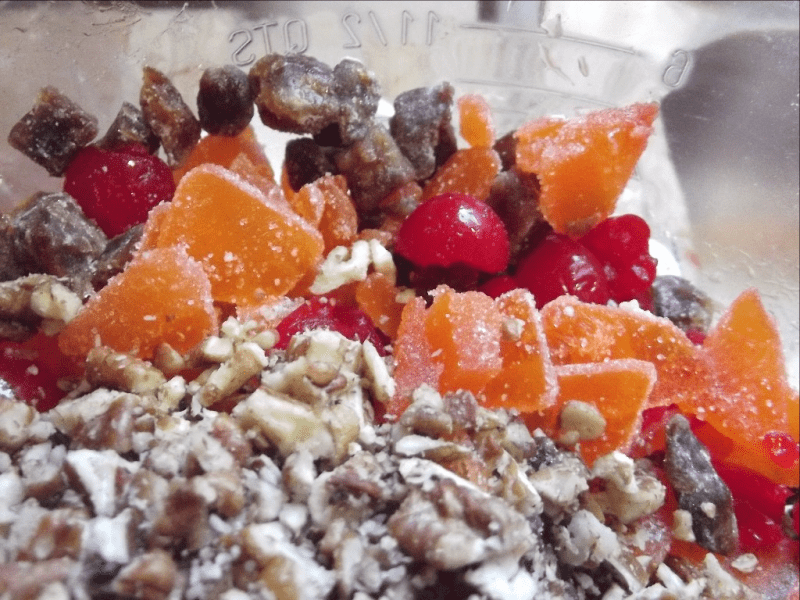 Cream butter and sugar
Add eggs one at a time-mixing well after each.
Alternately add the buttermilk and 3 cups of flour-mixing well after each addition.
Use the remaining 1/2 cup flour to coat candy, dates, nuts, and cherries.
Add flour coated items and coconut to the batter and mix well. It's a very stiff batter at this point.
The recipe calls for a greased and floured 10 inch tube pan baked at 250° for two and half hours. Since I like to share our cake I divide the batter into two regular size loaf pans and two mini loaf pans. I also bump the oven up to 300°. It still takes well over an hour for the cakes to bake, of course the mini loaves finish before the regular size ones.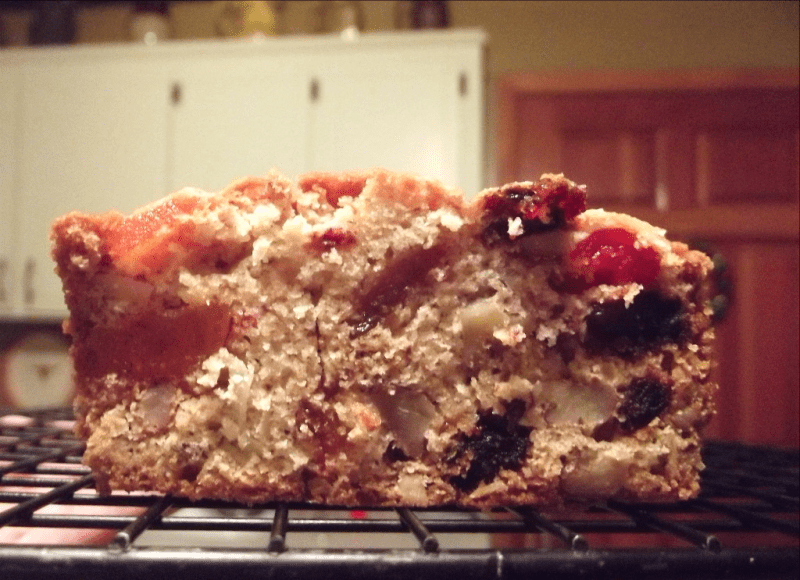 Even though the Orange Slice Cake takes some time and energy to make it is very good and the flavors make it seem perfect for this time of the year.
Tipper