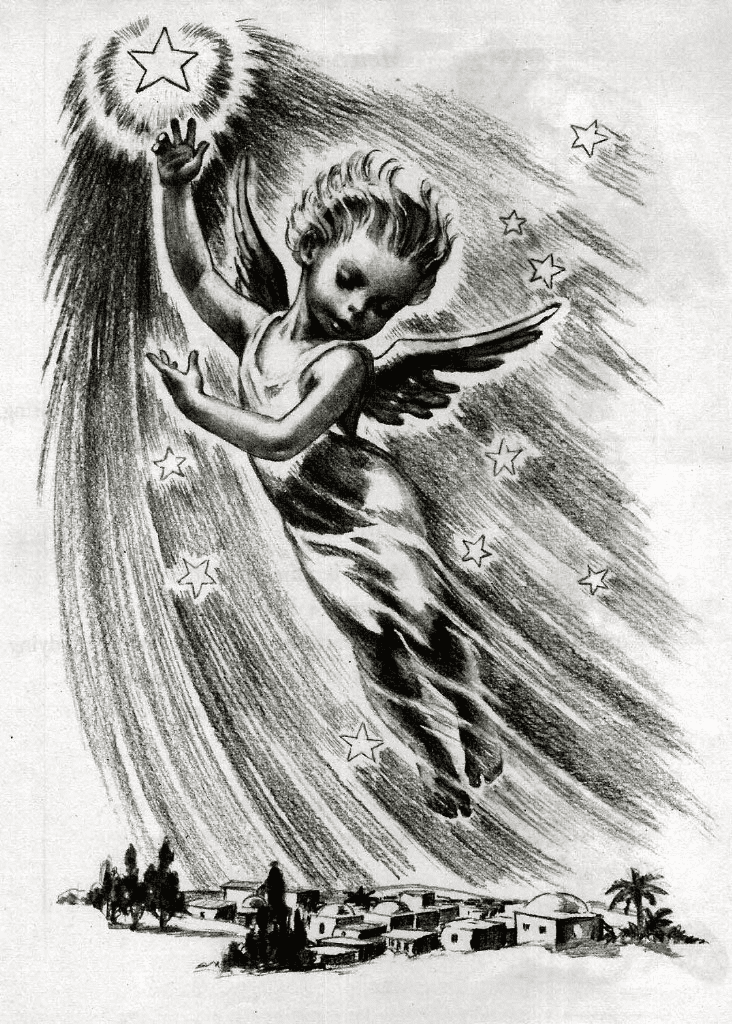 Oh Little Town Of Bethlehem was written by Phillips Brooks, the pastor who spoke at Abraham Lincoln's funeral service. Before becoming a pastor, Brooks taught at Boston's Latin School. Brooks was discouraged by his students lack of interest and left his position to attend the Episcopal Theological Seminary. After Brooks graduated in 1859 he was asked to pastor the Holy Trinity Church in Philadelphia.
Brooks was very successful. He was widely known as a powerful and persuasive speaker. Under his guidance the church grew and prospered. But as the Civil War began to take a tole on the entire country, members of the church began to fall away and Brooks found it harder and harder to offer them the peace they so desperately needed.
When the war finally ended, Brooks thought the healing of his church and the country might began, however the unexpected death of Lincoln shattered his dreams.
After speaking at Lincoln's funeral Brooks took a sabbatical to the Holy Land in an effort to reconnect with his God and to allow his mind and body to rest. He visited during the Christmas season and was able to ride a horse along the route Joseph and Mary took from Jerusalem to Bethlehem.
As he rode alone in the darkness with the stars shining above him he was moved in an overpowering manner. He felt like he was able to experience a small taste of the magic and wonder that must have been alive on that very first Christmas.
Once Brooks returned from his trip abroad he had a renewed strength to pastor his church. He wanted to share his Christmas in Bethlehem experience with his congregation and the world at large but he always seemed to fall short when he tried to convey the feelings of awe and wonder he experienced.
A few years later, as the Christmas season quickly approached, Brooks tried once more to put his experience into the most meaningful words. Proceeding differently than he had in the past, he simply wrote down what came to mind and as he did Oh Little Town Of Bethlehem was born.
He shared his newly written poem with his friend, Lewis Redner.
Redner was moved by the poem and finally understood the breadth of what his friend had experienced while visiting the Holy Land.
Redner tried in vain to compose a line of music that would fit the words Brooks had penned. On December 24 Redner accepted defeat and went to bed. But all was not lost, the perfect tune came to him in his sleep. The tune fit the poem perfectly.
The song become an instant hit in the Philadelphia area and by the time Brooks died in 1893 Oh Little Town Of Bethlehem had become a favorite Christmas Carol across the country and beyond.
A quote from the book Stories Behind the Best-Loved Songs of Christmas gives us an interesting view of both Brooks and the song:
"In a sermon Brooks once said, "It is while you are patiently toiling at the little tasks of life that the meaning and shape of the great whole of life dawns on you." On a horse, in a tiny village, a half a world away form his home and family, the meaning of Phillips Brooks's life and the purpose behind his work were brought into sharp focus."
I like the quote from Brooks. I firmly believe the little bits of every day life are what make life so precious. Click on the link below to hear Pap and Paul's version of the song (you may need to click your back button to come back to this page).

Oh Little Town Of Bethlehem is my all time favorite Christmas Song and I love Pap and Paul's version of it. The song is on Pap and Paul's cd Songs of Christmas.
You can go here Pap and Paul's Songs of Christmas to purchase a cd of your own.
Tipper
*Source: Collins, Ace. Stories behind the best-loved songs of Christmas. Grand Rapids, Mich.: Zondervan, 2001. Print.