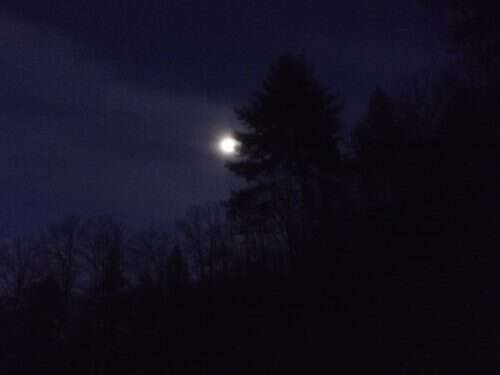 The lovely Southern Moon has been shining down on me this week. The moon is synonymous with superstition, wives tales, and folklore. It's common to hear folks talk about a full moon being responsible for craziness that seems to coincide with the Moon's cycle.
Appalachia is full of advice related to the Moon's cycle. I've heard a few of the following-the others I found in The Foxfire Book:
~ Number of days the old Moon is at the first snow-tells how many snows there'll be that winter.
~ It will rain within 3 days if the horns (ends of a crescent Moon) of the Moon point down.
~ If it begins raining on the first day of the full Moon it will rain till the Moon quarters.
~ Plant potatoes when the Moon is waning or decreasing.
~ Harvest most crops when the Moon is growing old.
~ Cut timber in the old of the Moon-it will dry better.
~ Set fence posts in the old of the Moon to prevent loosening.
~ Don't lay shingles or nail boards during the growing Moon or they will warp.
~ Cut hay in the old of the Moon and it'll dry a third quicker than if you cut in during the new Moon.
For this week's Pickin' & Grinnin' In The Kitchen Spot Paul and Pap are singing Southern Moon a Delmore Brothers song.
Hope you enjoyed the 2 part harmony singing and the folklore. My favorite story about the moon-When my older brother, Steve, was little he cried for the moon saying "Daddy get me that rock, I want that rock up there." Do you have some Moon folklore or maybe a story about the moon? I'd love to hear about it-leave me a comment.
Tipper
p.s. Yesterday was Pap's birthday-he was 71 years young. HAPPY BIRTHDAY PAP I love you so. For more information about the Moon's cycles visit Moon Connection.