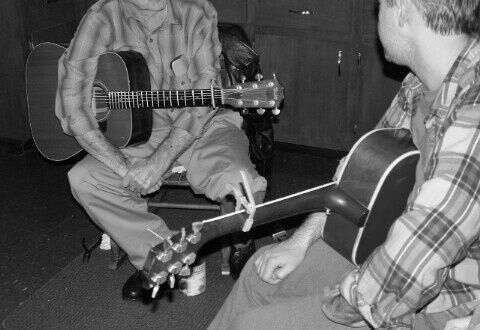 Lately we've been doing an old Johnnie & Jack song-Ashes of Love. The musical duo of Johnnie Wright and Jack Anglin were popular during the late 40s and early 50s, both men were born in Tennessee. The men became brother-n-laws when Jack married Johnnie's sister. Jack actually started his music career with his brothers Jim and Red-as part of the Anglin Brothers. After they disbanded, he began performing with Johnnie.
In the beginning (1938) their style of music was similar to brother duets of the time such as The Delmore Brothers and other brother acts. But as time went on they developed their own style.
Johnnie's wife is one interesting tidbit of their history-her name was Muriel Deason aka Kitty Wells. WWII temporarily hindered their career because Jack joined the Army. Once he returned-Johnnie and Jack-and Kitty were back on the stage performing across the country. Their young guitar player of those post war days is another interesting tidbit-it was Chet Atkins.
By 1947 Johnnie and Jack were on the Grand Ole Opry but it was a few years later-1951 before they had their first true it-Posion Love. By the late 50's Johnnie and Jack's hits had slowed-but Kitty was still cranking them out and since they all played together. Johnnie and Jack enjoyed continued success.
After the tragic deaths of Patsy Cline, her manager, Cowboy Copas, and Hawkshaw Hawkins, Jack Anglin was killed in a car accident on his way to the memorial services of his fellow performers.
For this Pickin' and Grinnin' in the Kitchen Spot-the Blind Pig Gang does Ashes Of Love a Johnnie and Jack song.
Hope you enjoyed the song! To learn more about Johnnie and Jack click here.
Tipper