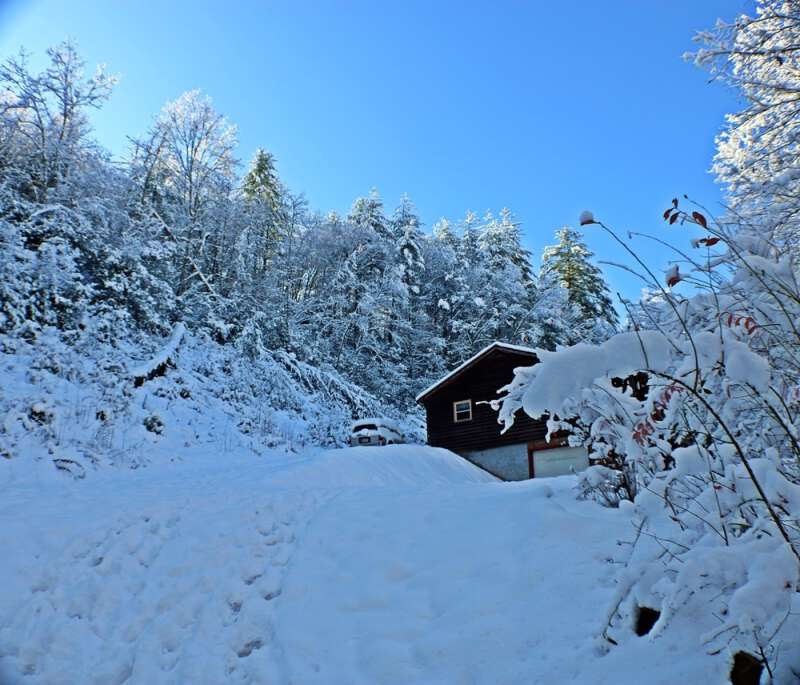 I got the snow I was wishing for!
Last week I heard folks at work teasing about snow coming in at the end of the week, but I really didn't believe it would snow and I was so preoccupied with getting ready for the annual Pressley Christmas Party that was going to happen over the weekend that I didn't think much about it.
Early Friday morning, a little after 5:00 a.m., my phone started going crazy. I'm part of the alert team at work and as soon as I heard the phone I told The Deer Hunter "It must have snowed."
After I completed my necessary duties for work I settled in to watch it snow while I drank my daily cup of Postum. It was just beautiful!
Thinking the snow would soon peter out and that I still had a ton of things to do before we left for Canton I got to work cleaning house. I was elated at not having to go in to work. I felt like I'd been given four extra hours of life (I usually work a half day on Fridays).
First I packed up every thing we needed to take for the Christmas festivities at Aunt Wanda's and then I started vacuuming and cleaning. Every so often I'd notice the power flicker but I kept getting at it hoping to finish my house work.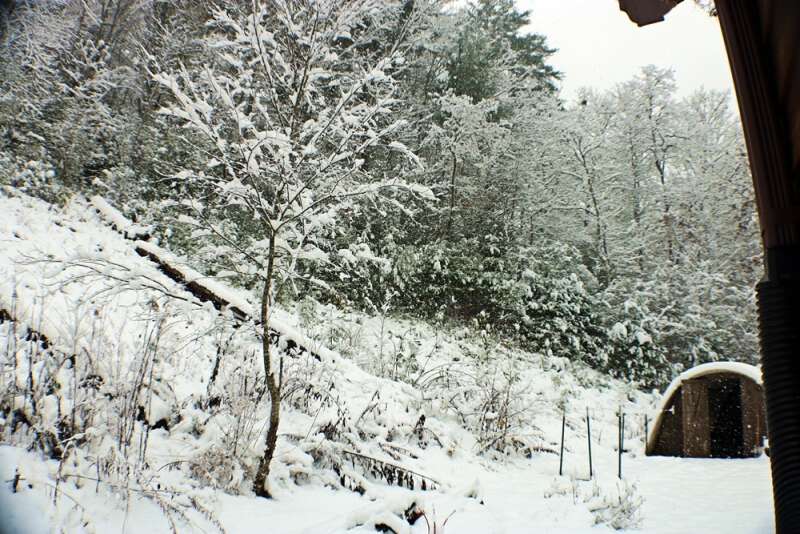 I finished up about 11:30 and was just about to fix myself something for dinner when I looked out the window. I could not believe how much snow had accumulated! I hurried and caught some water in what I had handy in case the power decided to go off for good.
As I stood and worried about Chatter and The Deer Hunter getting home from work I saw a truck come up the driveway. Chitter said "Who in the world is that?" I said "I think its Chatter." And it was. A nice man at work drove her home. I can't believe he attempted our driveway, but he made it fine.
Chitter ran outside to see her sister and about that time the lights went out.
The Deer Hunter was home directly. I already had a fire built in the wood stove so we set in to enjoying being snowed in together. Aunt Wanda decided she better cancel the big Christmas party since Haywood County was getting the same snow we were so there was nowhere any of us had to be.
Granny's phone doesn't work if the power is off and while we were toasty warm I knew she wouldn't have any heat without the electricity. I was just about to head down there when I got word that Steve, my older brother, had taken her home with him.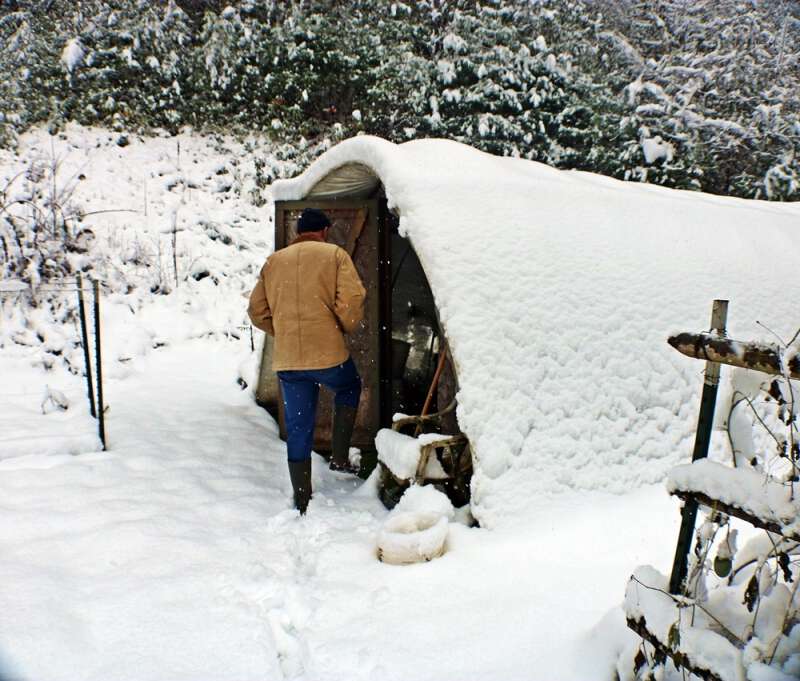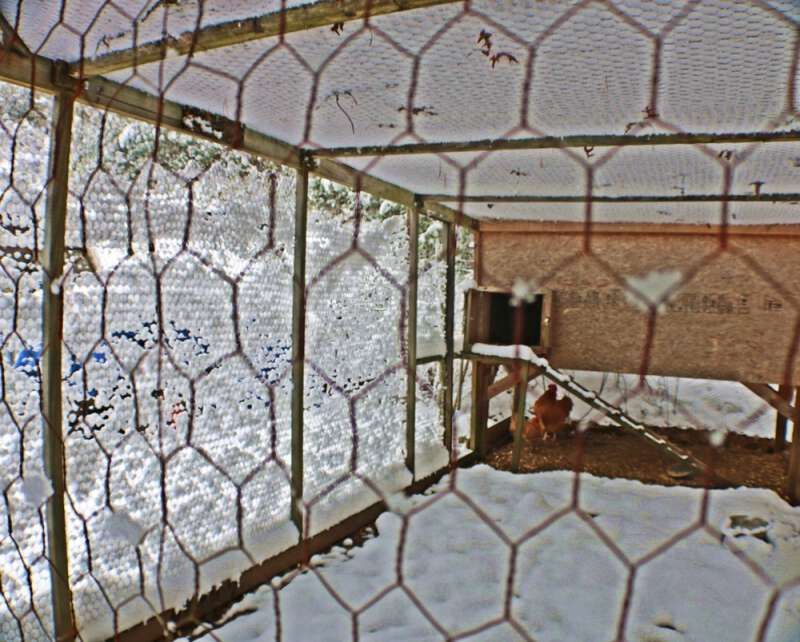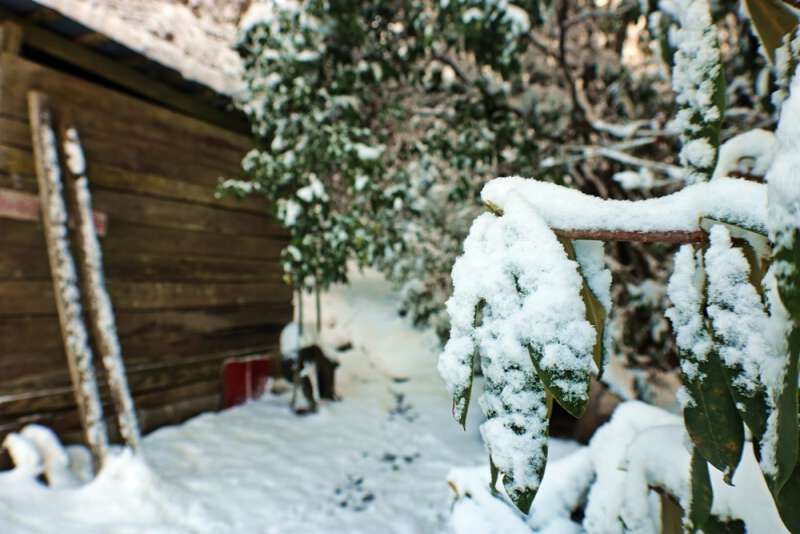 The Deer Hunter and I went outside to check things out. The snow was so pretty! I stood staring up in the sky at it until I made myself dizzy. We fed the chickens and The Deer Hunter de-snowed the greenhouse. We wondered around a while and then headed back inside to warm by the fire.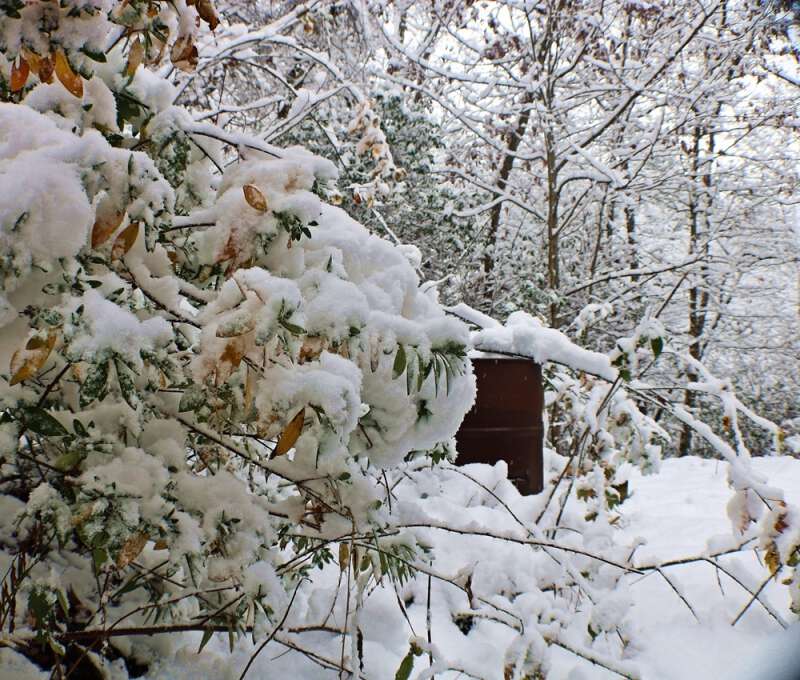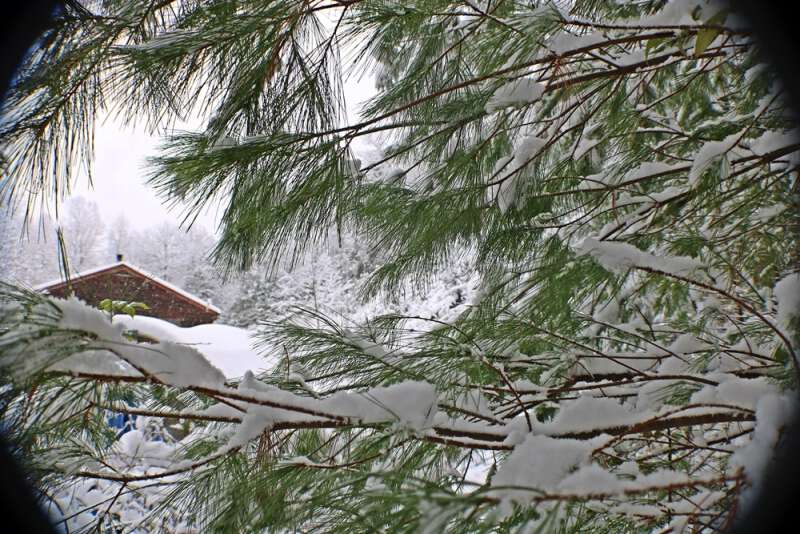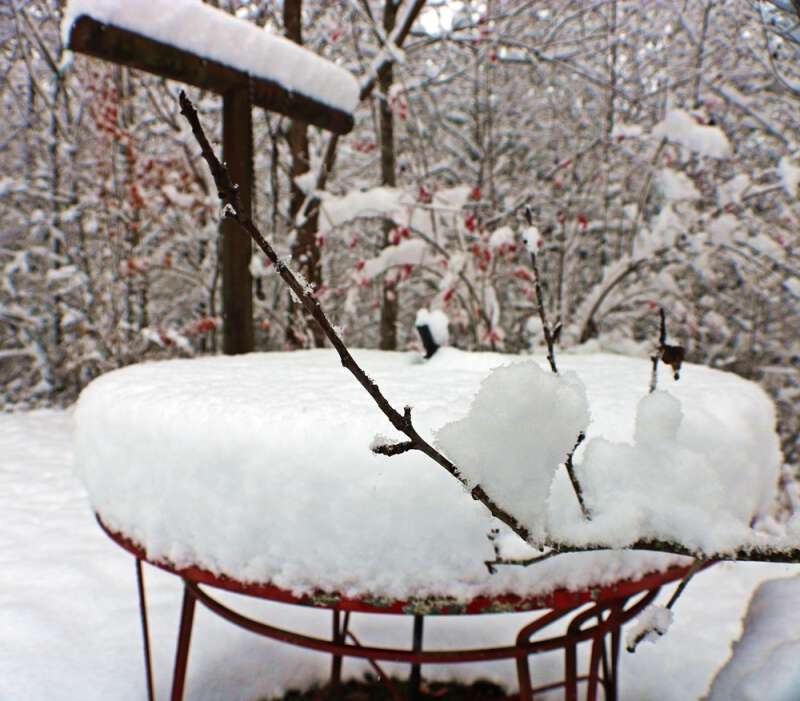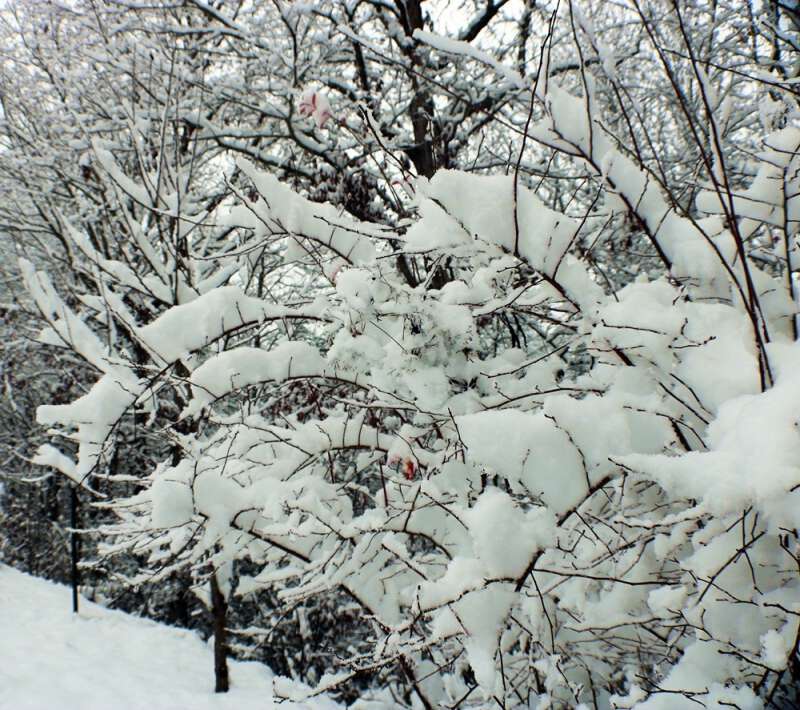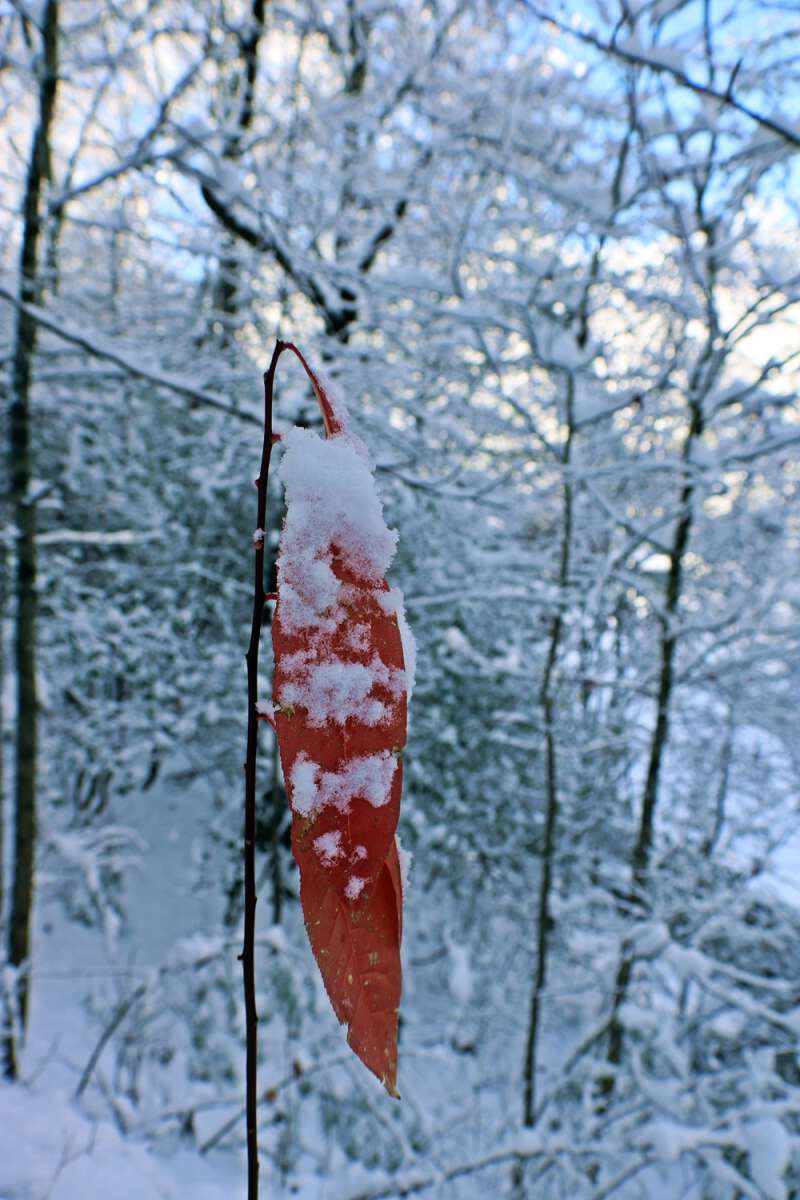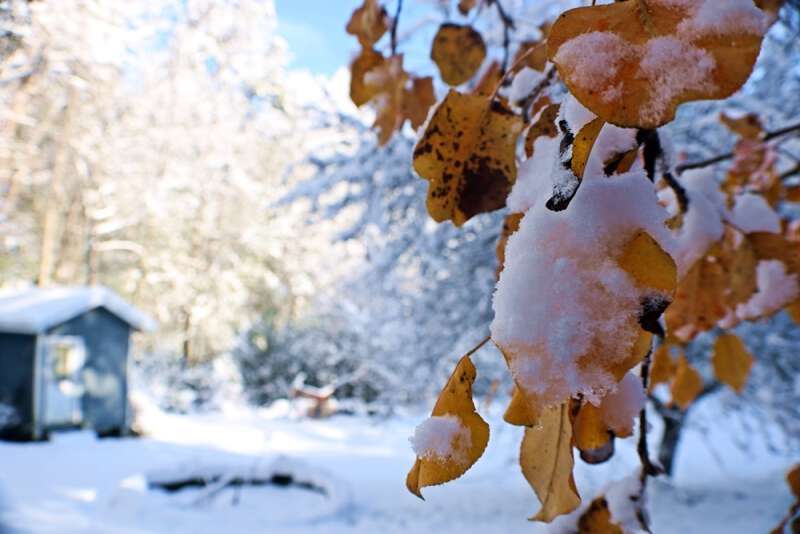 The snow was the perfect kind for coating every available surface no matter how small or delicate and as you can see from the photos I felt like I had to capture every example with my camera.
Once we were inside I quickly realized I had dropped my phone somewhere along our trek so we headed back out to find it. Luckily it didn't take us long.
The power stayed off the rest of the night and most of the next day. Although I love snow more than anything, I do feel for the folks that have to be out in it. There were almost 700 outages in the Blue Ridge EMC service area and that equals about 18,000 people without power. I so appreciate all the hardworking EMC folks who worked to get it all back up and running.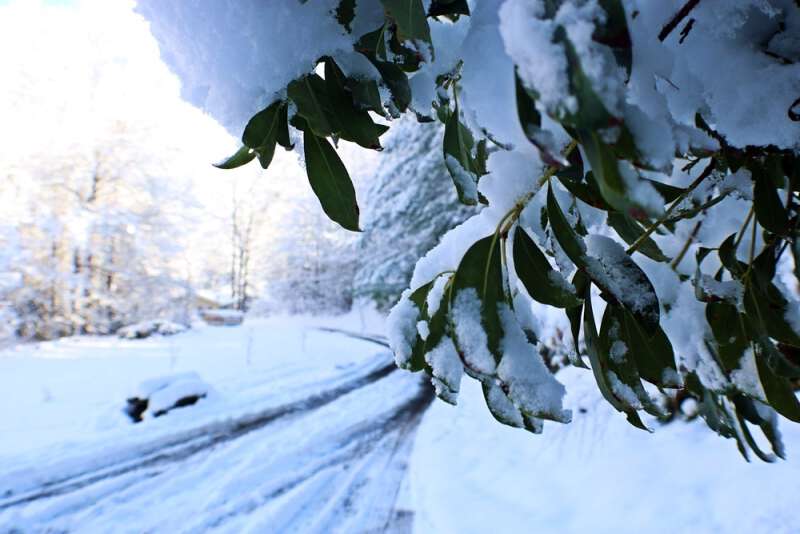 The next morning I was anxious to find out how Granny had made it but everyone's phones were dead and I couldn't get anyone to answer me. I finally took off down the hill to see if I could find them. I ran into Paul along the way and he said Granny was still at Steve's.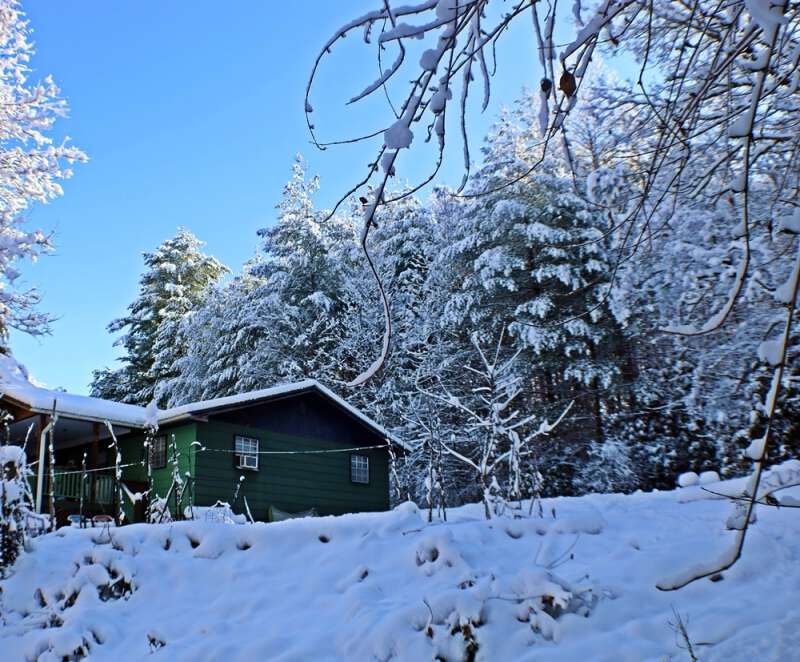 Granny's house looked like a Christmas cottage tucked into a winter wonderland.
We walked the rest of the way together and as Paul went in I told him to tell Granny to look out the window and I'd wave at her. I think he thought I was crazy, but I knew she'd want to see me and I sure wanted to see her.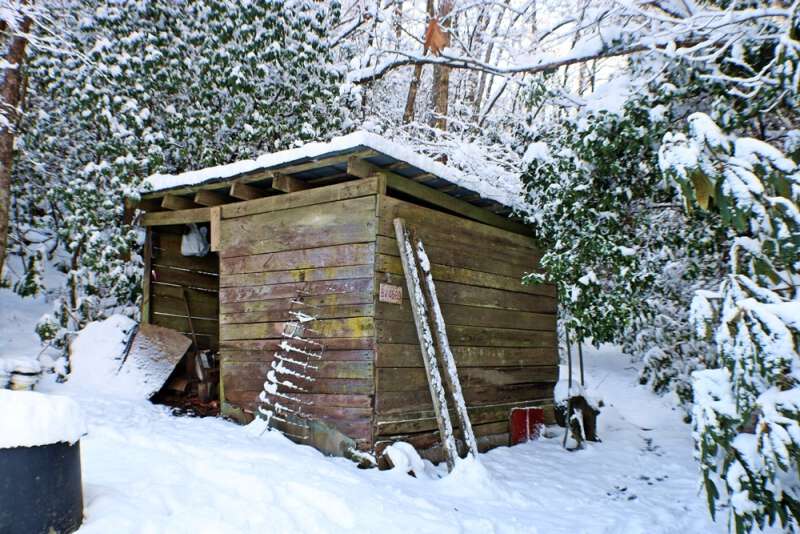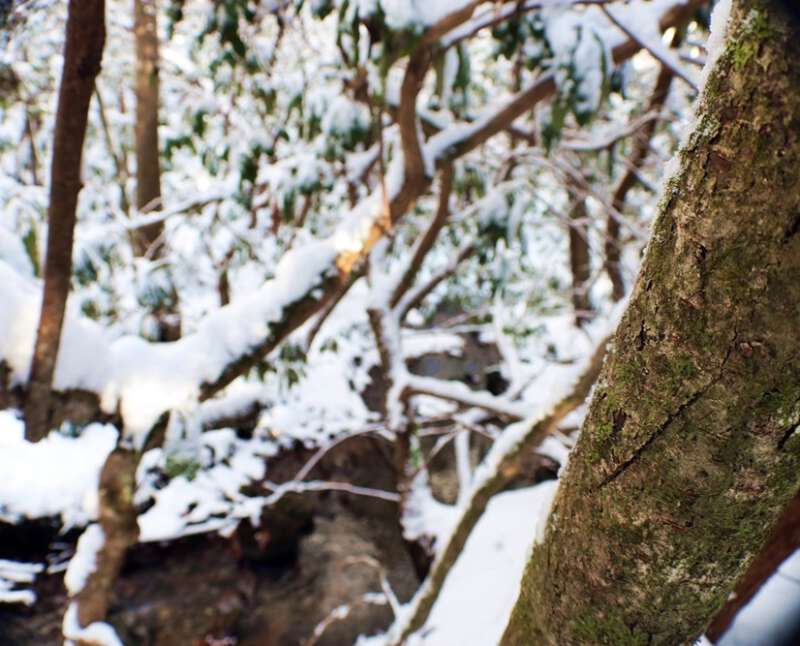 I tromped around Steve's yard and headed to the creek to take pictures of the snow. Just as I started up the hill for home I thought I might ought to look at a picture or two.
Wouldn't you know I took all those pictures without a memory card in my camera. I almost wanted to cry. Instead I hiked back home, got my card, and did it all over again. Steve's dog Griffin didn't like me coming around the first time. He really didn't like it when I came tromping back. He is the sweetest cutest dog you ever seen except he won't let me get within 10 foot or he'll run. All I have to do is say hello and he skedaddles.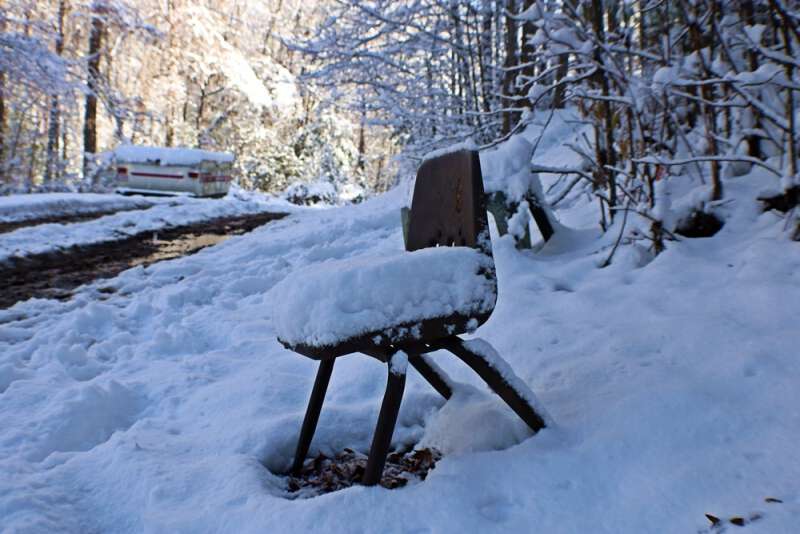 When the water supply I gathered had been depleted The Deer Hunter and Chitter hiked to the creek for water. We boiled some for drinking and cooking and used the rest to flush the potties. I made a tasty pot of chili on the coleman stove and we had a dandy breakfast cooked on it too. The girls said they were sort of sad when the power came back on. I think they enjoyed focusing on taking care of things in a more hands on manner than we usually do.
When The Deer Hunter came in from work on Friday he left his truck at the bottom of the drive. He's been chauffeuring us to where we need to go so we've all been hiking in and out. But even with the extra trouble I'm still glad I got a big snow! The average total for my area was between 6-10 inches. We had ten. It was the prettiest snow I've seen since the white Christmas in 2010 and since we live on the north side of the mountain I'll have a snowy view for at least the rest of the week.
Tipper