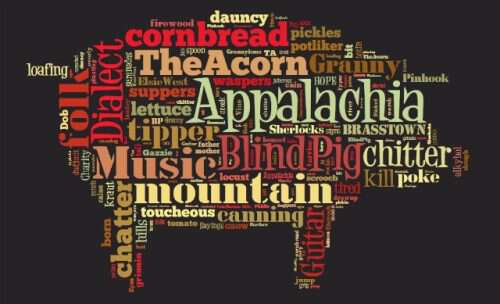 On yesterday's post about being stove up, Ron Stephens left the following comment:
"Been there, done that as we say these days. I use 'stove up' to meet a kinda all over stiffness and soreness. Sounds like some folks use it similarly to "stubbed" for fingers and toes. I had never in my mind made any connection between 'stove' and 'stave' but it makes sense. That is, 'staved in' means 'busted up'. I'm with you about not having alternatives that convey the same idea as well. I want to hang on to my Appalachian dialect expressions. The idea that we all have to talk like a Midwestern newscaster is just sad. I'm curious. Do any of you all change how you talk depending on who you are with? If so, do you know when you change or is it unconcious? I'm actually unsure whether I do or not. I think I might. But is it a matter of courtesy or is it 'gettin above our raisin' or is ita mixture of both? (Actually I'm old enough now I don't think about it except as a reflection back across the years.)"
—————
In today's modern world changing your speech to better fit the people you are talking to is called Code Switching.
Why would anyone change the way they talk? The most common reason is to be perceived in a better manner by those you're speaking to.
Do I change the way I talk depending on who I'm talking to? Even though I don't like to admit it…I sometimes do change my speech.
If you've ever heard me talk in person, you know erasing my accent would be pretty much impossible. But I do find myself in situations where I try to use better grammar and word usage.
Here's a comment LG left yesterday in response to Ron's question:
"To Ron Stephens. Years ago I was in the Cleveland clinic. A nurse mentioned my hill accent and asked where I was from. I put on the dog a little bit and gave her the speech she expected. I guess I was feeling briggidy. Briggidy is a word I commonly use. LG"
Maybe you'd call what LG did reverse code switching? I don't know, but I do know I've done the exact same thing. When I feel like someone is making light of the way I speak or treating me as a lesser person because of where I'm from, I narrow my eyes and lay it on a little thicker for them.
The girls recently had a college class where code switching was discussed. The class was split down the middle. About half the students said they always spoke in a different manner when they were in a professional setting. The other half of the class said they never changed the way they spoke no matter what people thought of them. Chitter and Chatter said after listening to the debate they could see both sides of the issue.
This is a portion of the comment Tamela left on yesterday's post in response to Ron's question:
"As for changing the way I speak according to the company I'm in, I do that both consciously and unconsciously. Sometimes my more casual speech comes out simply because I'm very relaxed and comfortable and I know the folks I'm with will understand the phrases I use. Other times, I must be more "formal" or "professional" so as not to confuse the "audience" with terms and phrases, even inflections they may not be familiar with or may misinterpret."
I think Tamela explained why I sometimes change the way I speak perfectly: "I must be more "formal" or "professional" so as not to confuse the "audience" with terms and phrases, even inflections they may not be familiar with or may misinterpret."
Code switching – I don't like it even though I'm guilty of doing it on occasion.
A few thoughts I had while writing this post:
Appalachian accents are often thought to indicate a lack of intelligence-which is totally a false assumption
What does it mean that I sometimes try to alter my speech to fit in or be accepted by the very people who belive that falsehood
Maybe code switching is just one more necessary trapping of modern day life
Maybe saving your true speech for those you care about the most makes it even more special
What if code switching eradicates even more of our rich colorful Appalachian language
When the girls were in middle school they had a school trip to visit the outer banks of NC. I tagged along and greatly enjoyed the trip. We rode a ferry across to see the wild horses. The girls and I were sitting together near where one of the boat attendants was working. We kept catching pieces of his speech as he talked to other people. The girls and I looked at each other-we were all thinking the same thing. We thought he was trying to mock our accents. He noticed us staring at him and started asking us questions about where we were from. I quickly realized he was too nice to be making fun of us so I told him what we thought. He said "Well that's funny I thought you were trying to make fun of me!" He then went on to tell us he was born and raised on the Island of Ocracoke and that's where his accent came from. I said "Well we're born and raised in the other end of the state in the far western corner of the mountains in a place called Brasstown and this is the way people from there sound."
Accents are unique and beautiful no matter where you hail from.
Tipper