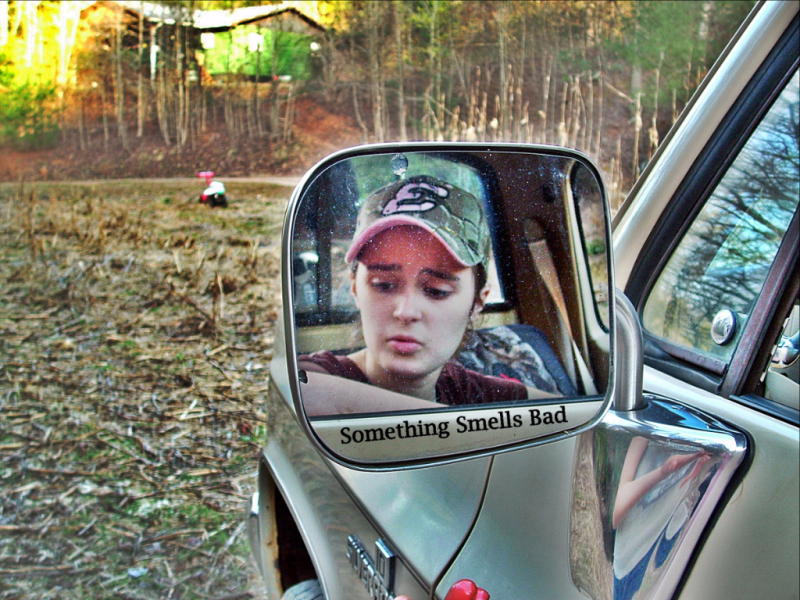 A few weeks ago I received the following email:
Hi Tipper,
I am trying to track down an old word. I have no idea how it is spelled, but it is pronounced "KYARN-ee" and it is used as an adjective to describe something that smells horrible. In fact, I believe it has connotations of (pardon my language) "sh***y."
I know of only two people in my entire life who used this word. One is my best friend's mother, who has lived her entire life  here in Franklin County, VA, in the foothills of the Blue Ridge Parkway. The other is my husband's grandmother, who was born, raised, and lived her entire life in Wayne County, WV, near the WV / KY border. Rather a large separation, geographically speaking, so the word must be somewhat common to the Appalachian region, but I've never been able to track it down. Can you or one of your readers help me find it?
Thank you,
Catherine Spence
—————–
This is my reply:
Catherine
Good to hear from you! I am familiar with the word-I've heard it exactly as you pronounced it. And yes it means something that smells horrible-like week old dead road kill LOL : )
My husband uses the word-and he says snake dens smell like cyarn.
I will put your question to the blind pig readers and we'll see if they are familiar with it too. I'll do some more research as well.
Have a great night!
Tipper
—————–
carrion noun variant forms cyarn, karn, karon, kyarn.
1913 Kepart Our Sthn High 277 Occasionally a word is both added to and clipped from, as cyarn (carrion). 1939 Hall Notebook 13:44 White Oak NC kareron, kyarn = carrion. (Faye Leatherwood) 1940 Haun Hawk's Done 121 Meady said she didn't blame Burt any more than she blamed a buzzard for eating kyarn. 1942 Hall Phonetics 94 In the speech of older people this glide [j] is very common after [k] or [g]; for example, car, card, carpenter, carrion, cart, Carter, carve, garden, guarantee, guard, McCarter, scarred. 1976 Garber Mountain-ese 49 The food was so bad spoiled that it tasted like kaarn. 1996 Montgomery Coll. carn (Adams).
—————–
Mel Hawkins sent me the following comment-which shows Hall's findings in 1942 are still alive and well today. (Mel is from North GA-just over the mountain from me)
"Tipper–Many of the of the oldsters around here pronounced garden as gyard'n."
Hope you'll leave a comment for Catherine and me and let us know if you too are familiar with the word cyarn/kyarn.
Tipper