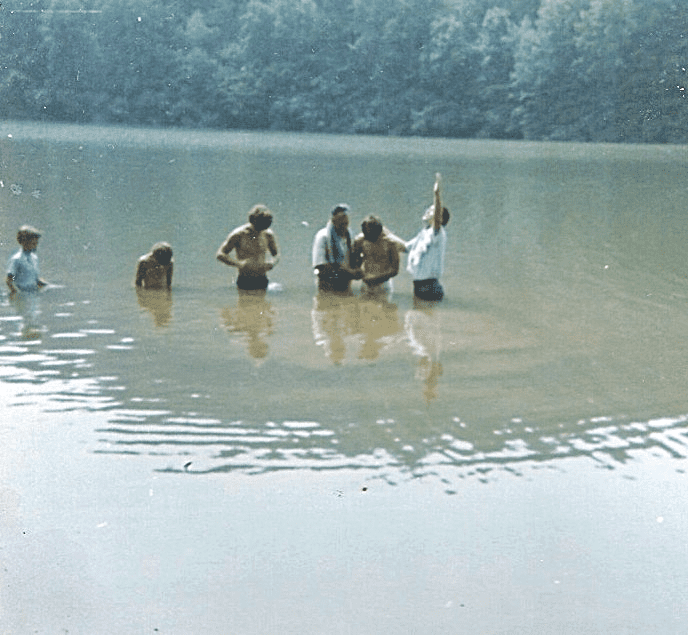 The song River of Jordan was made famous by The Louvin Brothers. Since Pap sung it too, it's a song I grew up hearing. Its one of those songs that take me straight back to childhood every last time I hear it.
Chatter and Chitter have been singing the song for a about a year. Tickles me to death that they are continuing Pap's legacy when they perform the song.
The Louvins wrote so many of the songs they recorded; I assumed they penned River of Jordan too, but I was wrong.
Hazel Houser wrote the song. I've haven't been able to find out much about her. The book In Close Harmony The Louvin Brothers written by Charles K. Wolfe has this quote about Houser:
"The album [Nearer My God to Thee] saw the first time the Louvins recorded songs by a person who was to become one  of their most effective writers, Hazel Houser. Houser provided for this session "Praying" as well as an older song she had written called "Wait a Little Longer, Please Jesus." (She would soon bring them "My Baby's Gone.") At this point the Louvins had never met Hazel Houser. She was from Modesto, California, and published her songs through Central. "Ken would bring'em. 'Here's a song you must record.' He didn't bring us any trash…"
The website Second Cousin Curly published an interesting post about gospel music and bluegrass performers in June of 2012. At the end of the post, Curly wonders about Houser, much like I have been.
"Anyone could be excused for assuming that "The River of Jordan"— the tune featured in the first video clip— was written by Mr. Anonymous way back when. Turns out the song was penned by Hazel Houser in the middle of the twentieth century. Houser is one of the great unsung songwriters of country and bluegrass. While others were drinking martinis and playing mahjong, this housewife from Modesto, California was turning out timeless compositions, including the country and bluegrass classic "My Baby's Gone."

My research has dug up precious little on Houser, beyond the fact that she passed away already many years ago. The music she has left behind offers tantalizing hints of a profound and sophisticated sensibility. Who wouldn't want to meet the author of the lyric, "Hold back the rushing minutes, make the wind lie still"? That's a verse that's closer to Romantic poetry than it is to honky tonk. If anyone has more information on Houser's life and music, please get in touch.

Yer Pal— Curly"
If anyone got in touch with Curly about Houser they didn't do it in the comment section of the post. The songs penned by Houser mentioned in this post are so thoroughly Appalachian that it makes me wonder where Houser grew up, but then again maybe that's just me wanting to project her songwriting talent onto these mountains so I can claim part of it.
Hope you enjoyed the song and the small amount of history I discovered about Hazel Houser. And by all means if you know anything else about Houser please share!
Tipper