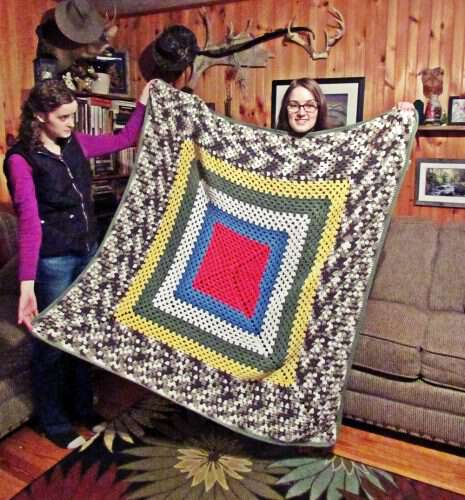 Chitter made me the afghan in the photo for Christmas. I'm telling you the girl can crochet , well actually both girls can crochet. Chatter gifted me with a beautiful scarf she made out of the softest yarn.
Granny's mother Gazzie loved to crochet and she passed that love on to Granny. I've told you plenty of times before, Granny is crochet crazy. She spins out things faster than we can keep track of them or find a place to put them.
Granny taught the girls to crochet and they've stuck with it. Pap used to get so tickled at them. We'd go somewhere to perform and while we were waiting to go on stage they'd pull out whatever they were working on and start crocheting. He said "They really are like two little grannies."
Granny is always telling me I'll be sorry I never let her teach me to crochet and someday it'll be too late. Even though I never picked up the skill, I sure am glad the girls did. Three generations of crocheters is pretty cool if you ask me. And if you count my cousin Tina who is my age and learned from Granny Gazzie-that makes 4 generations which is even cooler.
Tipper
Appalachia Through My Eyes – A series of photographs from my life in Southern Appalachia.
Subscribe for FREE and get a daily dose of Appalachia in your inbox