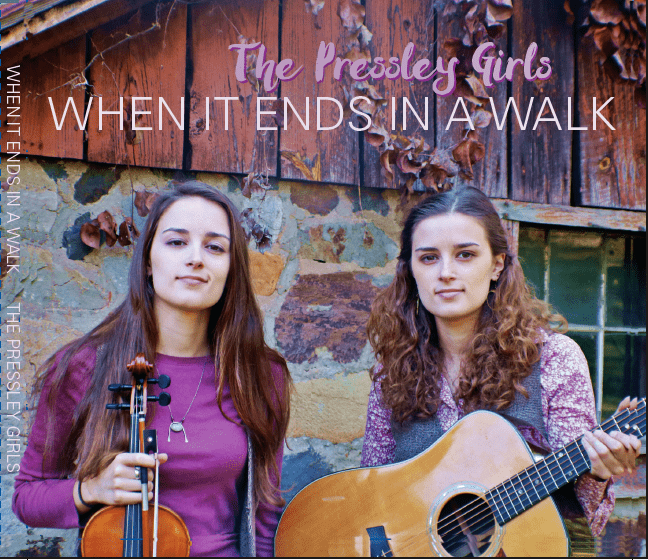 The Pressley Girls – When it Ends in a Walk cd cover
We got a lot of material to choose from at the photo shoot we did at the JCCFS in preparation for the girls' debut cd cover. I've shared several of the photos from the day with you over the last month or so.
The photo above is the one they chose for the cover. I teased them that they must have been going for the 70's rock band look. They said "Well what's wrong with that those guys were cool!"
I really like the photo and am amazed at how well the colors work together. We did the shoot on the morning of a busy Saturday when we all had other obligations to hurry off to. The girls didn't try to match their outfits, but they ended up looking like they did. And the colors of their shirts really bring out the colors in the rock building behind them. I'm totally surprised by how much they look alike in the photo. Even with the straight and curly hair I have to admit they look very similar.
The cds arrived this week and they sound great! We could never repay Paul for all the hard work he put into recording and mixing the tracks. The girls have already sold quite a few, more than I would have thought in only a few days. I'll tell you how to get one of your own, but first I want to share a recent video with you.
Many of you will remember my nephew Ben who showed up regularly in the first few years of my Pickin and Grinnin in the Kitchen Spot. A few days ago Ben used some of his fancy equipment to make a video of us playing. I think it turned out really good. See what you think.
I hope you enjoyed the video! Now for the cd information.
If you don't live in the area and you'd like to purchase a cd go here. If you do live in the area, you can email me at [email protected] and we'll figure out a way to get the cd to you so you don't have to pay shipping or if it's easier for you just buy it online that works too.
Tipper