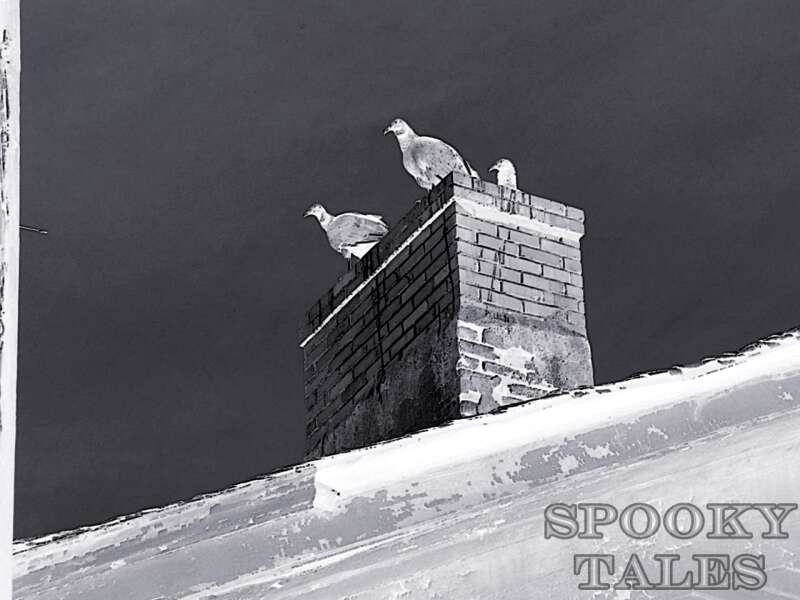 Way back they had no funeral home and had to lay the dead out themselves. This lady died and was buried in the Hanging Dog graveyard. They buried her with her pearl necklace on and rings on her fingers. That night some boys dug her up for the jewels and when the air hit the body she was just in a coma and she came to. She spoke to the boys and they ran. She called to them to come back she was not dead to take her home that they could have the jewels. They conquered their fears and got her out and took her home and mother said she lived 25 years after that. This was a true story. When they moved some of the dead to build the dam and lake near Murphy. Some of the relatives wanted the graves opened and some saw clawed marks inside their coffins where they had been buried alive. One girl got her mother's wedding ring off her mother's finger.
Mary Lou McKillip
——————-
I like the story of the will-of-the-wisp being an mean old man who, upon dying, arrived at the gates of Hell. The devil opened the gates a crack and threw out a ball of fire and said, "here, go start your own place" and he is still searching till this day. Heard it at church camp.
Sue Crane
——————-
I happened to recall a somewhat spooky, somewhat comic and rather serious family story about things in the dark.
My Mom was born in a coal camp down under the cliffs in the river holler and lived there until she was three. One night a neighbor woman sent someone to ask her mother, my grandma, to come to her house. Part of footpath she took passed underneath the cliff. It was late when she started back home and she had the thought, "Now underneath this cliff would be the perfect place if someone was to jump out at me." So she got out her pocket knife and carried it open in her hand. And when a big black something did leap out at her she slashed across it only to hear a voice she knew well say, "Lord, Jane you've killed me!" Shaking and weak they tottered on to the lights to discover that the blade had just reached through the clothes, leaving a dashed line of a very shallow cut across another neighbor's body. I don't think either one ever knew who was scared the worse.
Ron Stephens
——————-
Mommy! Where is Daddy?
Have you ever slipped out on a moonless night just to feel the breeze in your face and to listen to the sounds of the night? You follow the path up into the holler far enough that the lights from the house are gone. But you can still hear noises from home, so you go on a little farther. You've been here many times. You know every rock and root. On your right you hear the gurgling of the little branch that has been beside you since the path began. The only other sounds you hear are your footsteps in the leaves that have blown onto the path. Now you stop and listen for sounds from back at the house. You don't hear anything. You don't hear anything! Where is the little branch? Maybe the leaves have blown across it too and muffled the sound. Be real still and listen.
Now you hear the wind in the trees along the ridgeline. Nothing else. It's time to go home. You turn to follow the path back the way you came but something reaches out and stops you. It feels like a laurel bush. You are confused. You've turned too far or maybe not far enough. Alright now, turn all the way around until you feel an opening. There is none! You've been in a laurel thicket before but never after dark without a light. There is only one way out. Get down and crawl under the tangle of limbs. But which way?
The wind is beginning to howl through the trees up on the ridge and is picking up down here too. You start to feel a little chill. It's going to get cold tonight! The laurels are blocking much of the wind but you can't stay here. You get down on your belly and start to crawl. You are in a deep carpet of leaves but it's damp and your clothes are already getting wet. And now you can't stand up. The laurels have you pinned to the ground. Your only choice now is to keep crawling. Crawl until you're out of this hell or crawl until you can't crawl any more. Pray you find the little branch and the path that leads home. If not you can try to pack leaves under yourself to block the cold dampness of the ground and cover yourself with more to keep away the cold air. You will wait here until the light returns.
Ed Ammons
——————-
A true story: I grew up in a hand-hewn, 240-year-old farm house in rural Cross River, Westchester County, New York. One morning in 1962, when my younger brother Tony was seven, he came to breakfast asking about the old man dressed all in black who had stood at the top of the stairs, shrouded in a mist. In 1971, my twin brother John and his girlfriend were week-ending at "The Double R", named for my mother Ruth and step-father Reggy Townsend. At midnight, the house echoed to a piercing shriek. John's guest flew to his room on the third floor, dove into his bed, and burrowed under the blankets. Reggy rushed upstairs to confront the crisis. Maryann had felt her room grow cold and awoke to see a small, silvery old man at the foot of her bed. The figure glided towards her– but it had no lower body.
Brian P. Blake
——————-
Tipper