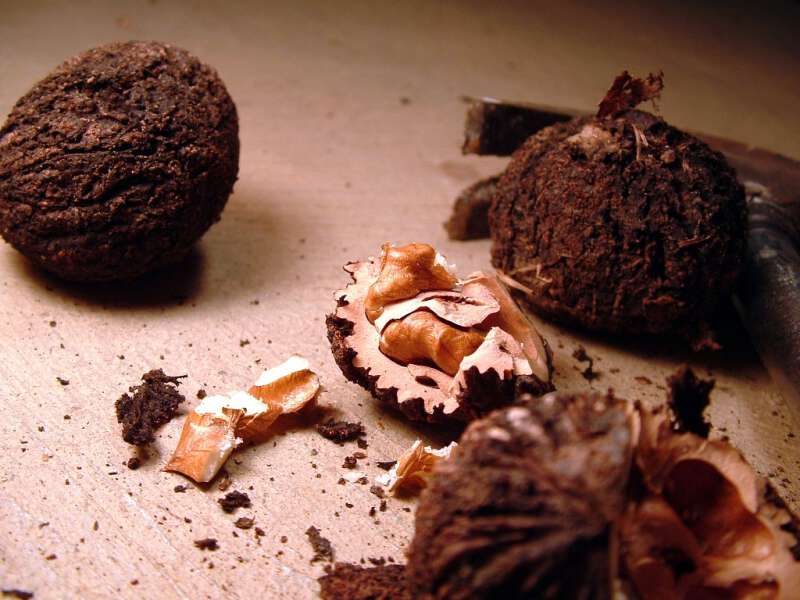 Excerpt from Fred O. Scroggs' writings about the community of Brasstown"

After the threshing season was over we baled lots of the wheat and rye straw. This we sold to lumber camps in Graham County and elsewhere where it was used for bedding material for their stock, and in the bunk houses where their men slept.
I had an Uncle by marriage, (Uncle Henry Green who lived at Mayesville Ga., who was a Veterinarian Doctor.) He obtained an order for me for a car load of baled straw for the Boney Allen company of Buford, Ga. I filled the order. 1200 bales in a box car. Probably the only car of straw that was ever shipped from Murphy. The price was good and we made money on the deal. Boney Allen owned a large tannery, a shoe factory and a harness factory. Also a horse collar factory. This straw was used as filler in the horse collars. They made large quantities of these a great amount of which was used by the U. S. Government for use in the army calverly services.
In trying to work with my neighbors and customers, I kept on the lookout for a market for anything that we might supply. Most every farm had some apple trees. The apples just dropped off and rotted. I made a trade with a jelly making plant in Atlanta to sell them a shipment of these "cull" apples. Any variety but some apples. The order was for 50 barrels at $1.00 per bushel. So I bought the barrels from Fain Grocery Co., in Murphy, and made a trade with Floyd Clayton and Frank Hampton to go around and trade for the apples and fill the barrels. They could pay .25¢ per bu., but most of the folks didn't charge anything. The boys went about buying apples. I paid them .50¢ per bu. and furnished the barrels and did the hauling. We placed a little straw in the bottom, and some on top, taking off the top hoop and covering with a piece of burlap bag and replacing the hoops. We shipped 30 barrels or around 90 bu. So this brought in around $90.00 for a product that would otherwise have been wasted. I did not try and fill an order the next season as these neighbors who had given their apples away or sold cheap, got an idea that we were making too much money on them and asked $1.00 per bushel.
One time my good friend, Mercer Fain of Murphy, who operated the Fain Wholesale Grocery Co., contacted me and said that he had an order for 50 or more bushel of wild crabapples. Could I fill the order? The price would be $1.00 per bu. He said it didn't matter if they had rotten places, half rotten or what not. I said that I would try but was skeptical. Asked what he wanted them for. He said they they were going to a Nursery company at Cleveland, Tenn. They would let them rot and save the seeds which they planted to grow root stocks on which they grafted improved varieties of apples and sold to orchardist. I put out a call over the section and was able to fill Mr. Fain's order complete. For some unknown reason this order never repeated.
At this time there was a demand for walnut kernels. We bought from any who would bring them in. I could never get enough to fill my orders. A hand operated walnut cracker had appeared on the market. I bought one maybe around 1926, and began buying walnuts. Stored them in the blank-shop building I had built, near the Elmer Sales House, the present Chas. Hedden Home. I paid .50¢ per hundred pounds and accumulated around 2000 lbs. They came in as far away as Shooting Creek, N.C., Ivy Log, Ga., and elsewhere. I then made a trade with a number of folks to crack and extract the kernels. Those who did the work would come and crack a quantity which they could carry home if they wished and extract the meats. I sold these meats at .50¢ per pound and paid the workers .25¢ per pound. It was just and experiment, but paid out for all of us. At the same time I bought kernels from others over the area. I marketed these kernels in Gainesville and Atlanta, also to the Sears Market in Atlanta. I remember selling to a creamery and ice cream supply house in Atlanta, (Bessire & co.) 700 pounds at one time. They would have bought several thousand pounds. We continued to work this market for some years.
————————–
I hope you enjoyed this peek into the thriving metropolis of Brasstown in the early 1900s. Be on the lookout for another installation from Fred O. Scroggs detailing the way he worked with his neighbors to put a little money in all their pocketbooks.
Tipper
p.s. If you missed the hoopla-The Pressley Girls have their very first cd! Go here to get one!