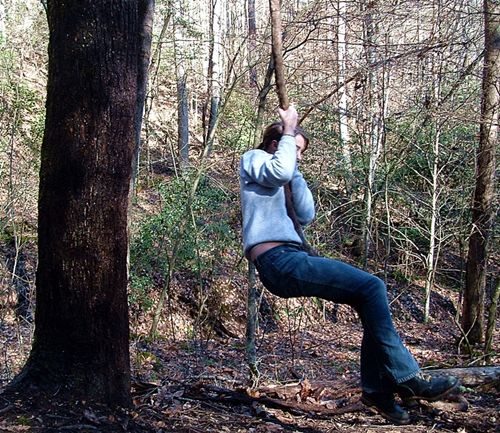 The other day I noticed a grapevine just at the top edge of a long slopping bank deep in the woods. I grasped it tightly in both hands and pulled to see if it might hold me. The vine held tight, but as I looked off the bank through the trees I lost my nerve and let the grapevine swing back to its place.
When I was young I loved to swing on grapevines. I was a little scared then too, but once one or two of the other kids tried a grapevine out and I knew it wasn't going to come unraveling through the trees I'd take my turn.
The best ones we ever found for swinging were between here and Pine Log in the Coleman Gap. There was a good trail. An old road bed led the way, it was easy to follow, even for us kids. The grapevines were on the high side of the road bed allowing us to swing out across the road into the trees beyond.
Days of wonderment: walking to swing, fussing along the way, arguing over some insignificant fact one of us brought up, and listening to each others tales. We always knew the way home would be filled with stories of our daring swings and a fuss over who swung the farthest and who went the highest.
Tipper
Subscribe for FREE and get a daily dose of Appalachia in your inbox