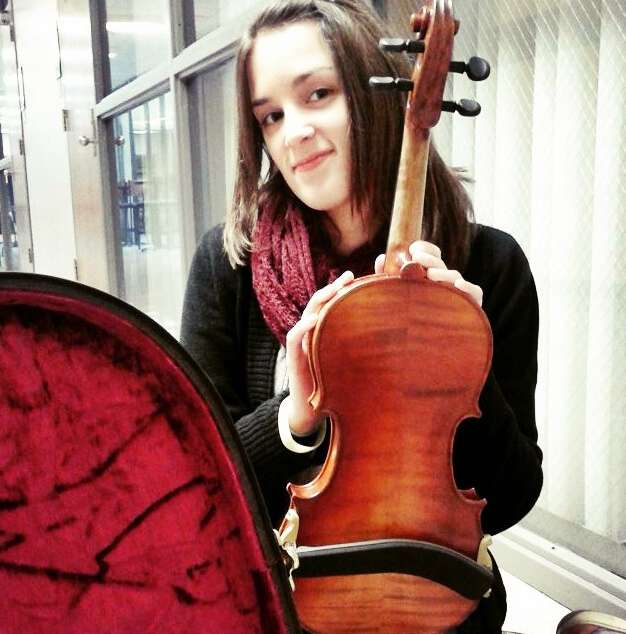 Chitter – ETSU Appalachian Conference 2015
Back before Christmas Paul helped Chitter record the old Bill Monroe song Lonesome Moonlight Waltz for Pap's special Christmas DVD. I asked her where she learned the song fully expecting her to say she learned it at the John C. Campbell Folk School since that's where she's learned most of her fiddle tunes.
Chitter surprised me by telling me she learned it from Youtube.
I said "What you just stumbled across it and decided to learn it?" She surprised me again by saying "No. I've heard that song all my life." I said "Well I don't know where I was at when you were hearing it."
I'm feeling like a waltz today so I thought of the song and decided to share it for my weekly Pickin' and Grinnin' in the Kitchen Spot.
Many of you have been asking after Pap. He is doing pretty good. If you asked him yourself he'd give you his usual answer of very well. I think answering someone's inquiry about how you're doing with very well may be an Appalachian thing. Sort of like saying you're doing as well as common when someone asks. He sometimes says that too.
How is Pap really doing? I guess you'd say it's complicated. He has had a few very very good days since his week long stay in the hospital. He's had a few not so good ones too.
In typical Pap fashion he says he's going to Praise the Lord for His mercy in giving him a pain free day even if it's his last one.
Years ago when Papaw Wade (Pap's father) received the news that there were several suspicious spots on his lungs he politely, but forcefully, said no thank you to the various treatments the doctors could have started. He never even let them look further than seeing the spots.
Papaw Wade went around to every house in the holler and said his goodbyes. Then he went home to wait until death received him. He seen all of us again during his sickness-seen us many times over, but somehow it was important for him to visit each abode and say farewell before going home for the last time.
By no means does Pap have Papaw Wade's readiness to meet his maker, but he has decided he'll just ride out the rest of his travels here on earth at home. No more hospitals, no more procedures. Unlike Papaw Wade, Pap still feels like getting out and about every now and again. Just this week him and Granny took off gallivanting over to Blairsville GA. I worried about them every second they were gone like they were 2 teenagers let out into the world for the first time.
A great group of palliative care folks have been checking on Pap a few times a week to make sure he's comfortable and has every thing he needs. The changes made to his medicines while he was in the hospital seems to have made a real difference in his overall situation and we're all so very grateful for that.
It was 3:00 a.m. one morning this week when Granny called saying I better come. Oh Pap was in a bad way when I arrived breathless from running down the hill in the dark of the night. I used all the tools we've been supplied with by the Palliative care team…seemingly to no avail.
Pap wrestled with that horrible pain till I felt so helpless. I doctored I paced I called the nurses and along with Granny I helped Pap stand upright which is the only position he seems to get relief from.
By nearly daylight Steve and Paul came and they held Pap upright in front of the heater so he could warm. Finally that horrible pain finally began to recede back into the darkness where it belongs.
Between then and now he's had all good days with no pain and high spirits. As Pap says this heart business will keep you guessing.
I love the video above because Paul and Chitter sound good! But mostly I love it for the same reason Pap does: the way Paul handles the arch top with such ease and the way Chitter looks so cute in her glasses making her silly faces with her hair all piled on her head like a small girl from a storybook.
Tipper