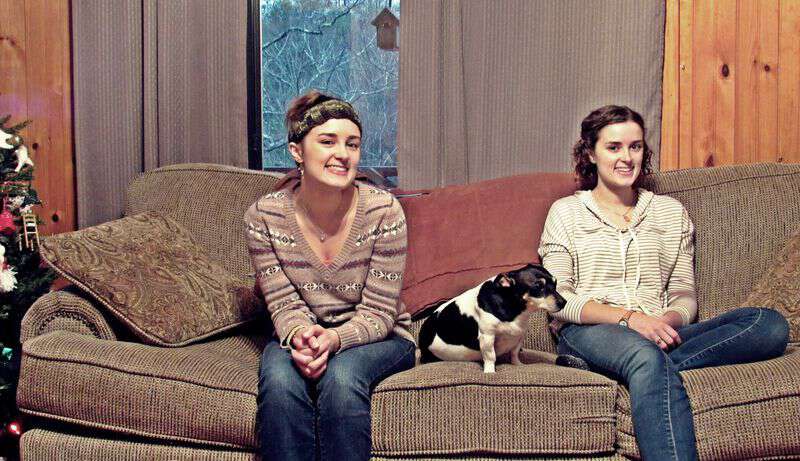 Every Christmas the girls make a dvd of new material for Pap's Christmas present. They try to do songs he hasn't heard them do so it'll be a surprise. They've been doing the Christmas dvd for at least 4 or 5 years. We usually aim for at least 5 songs but will settle for 4.
Sometimes the project turns into a labor of love…at least it does for the videographer who as you might guess is me.
It's not that I don't enjoy the music, but most years there's lots of silliness that just won't quit along with a bit of arguing and fussing between the girls. My practical nature believes we should be able to complete the task in no more than an hour. But between the silliness and the fussing filming 5 songs can turn into hours and hours.
Once we've completed the filming we are always ecstatic over the end result…even if it did take way to long (in my opinion) to achieve our goal.
This year's dvd filming was different.
We filmed a total of 6 songs, 7 if you count the 2 versions of one number we left because we couldn't decide which was best. The whole process went so smoothly that I couldn't believe we were done…in what had to been less than an hour.
Why was it so different? I don't really know but here are my guesses:
the girls are growing up
after the scare Pap gave us back in May they realize just how precious the gift is
Chatter was recovering from a cold and she wanted to finish quickly before she began to feel bad again
Here is one of my favorites from the dvd.
The girls learned the fiddle tune at the folk school. I like the catchy tune but my favorite part of the video is the ending. Chitter sort of run out of time and room and got tickled over how she ended the song.
Tipper