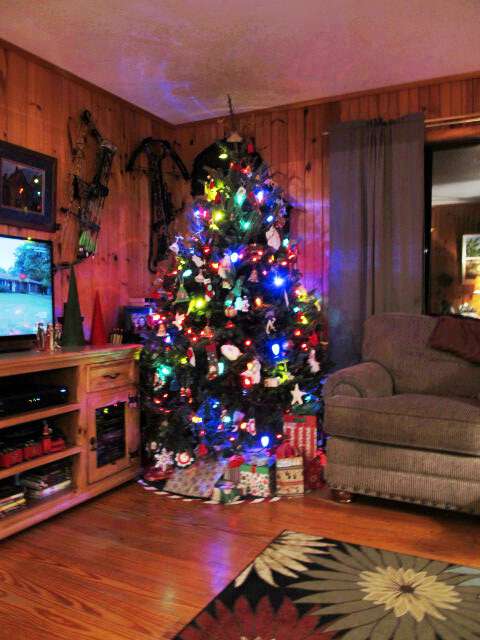 We put our Christmas tree up the weekend after Thanksgiving. Every year I think our tree is the prettiest one we've ever had and as I gaze upon it I wonder why we don't leave Christmas trees up year round? I guess that might take the special out of them.
When The Deer Hunter was a boy, him and Papaw Tony did leave their Christmas tree up year round. Well at least they left it decorated all year. They stored the decorated tree in the attic and pulled it out each year when Christmas arrived.
We put the big tree in the living room and I have a few small artificial trees that I put up throughout the house. Once the girls got older they wanted Christmas trees in their room(s) too. For a couple of years they went out on the bank behind the house and cut themselves a white pine for their room.
This year Chitter is using one of my small trees and Granny gave Chatter a small pink tree she'd had for ages but never used. Chatter wasn't exactly ecstatic about using it, but knowing it would be an easy fix I encouraged her to at least put it up. Once she took it out of the box she decided it'd work just fine.
Tipper
Appalachia Through My Eyes – A series of photographs from my life in Southern Appalachia.