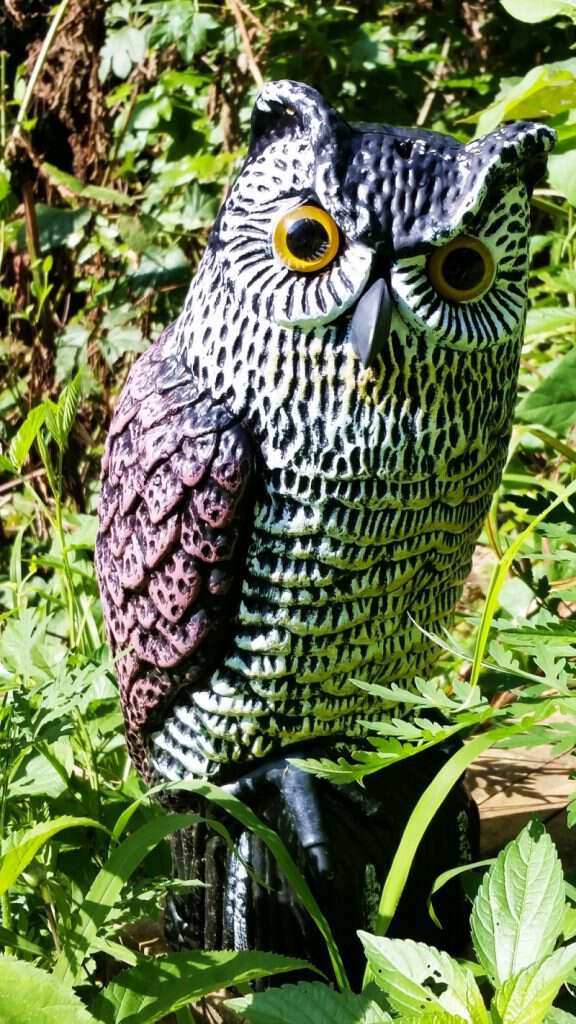 Several years ago I shared a story about a plastic owl with you.
The fake owl is still alive and well in Wilson Holler. One day last week I noticed he'd moved out to Granny's to keep an eye on her garden.
The only owl folklore I can think of off the top of my head comes from an episode of Andy Griffith: if a couple sees an owl in broad daylight they're bound to marry.
I checked out the Frank C. Brown Collection of NC Folklore and found these tidbits:
When you hear an owl hoot after night it will rain in about 3 weeks (Sounds kind of vague if you ask me!)
To make a hoot owl stop hollering, take a string and tie a knot in it and it will stop (Ah ha! This must be the origin of the whippoorwill story Pap told me.)
When the dogs tree, if an owl hoots on the left there is no need to go to him, because he will leave before you get there; but if one hollos on the right, you will be sure to catch whatever has been treed. (Makes me wish I could ask Papaw Wade if he followed this folklore when coon hunting-I sort of doubt it.)
If a coon hunting party hears an owl laugh just as they are setting out for the night, they will go back home. But if he "holloed" "Coon," they will have good luck. (Never heard an owl laugh but now I want to.)
Someone dies every time an owl hoots. (Like much Appalachian folklore this one is pretty extreme!)
If an owl hoots on the west side of the mountain it denotes good weather.
Tipper