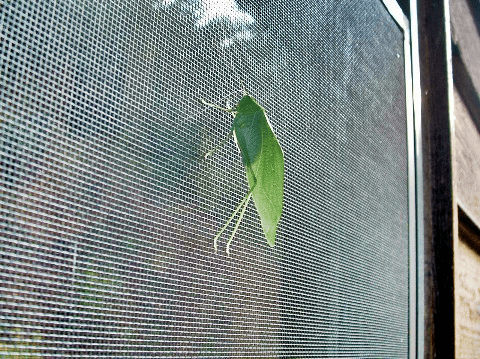 Have you been hearing the katydids at night? We've been hearing their chatter for a few weeks now.
Granny and Pap didn't have air conditioning when I was a girl and with all the windows open on hot summer nights the katydid voices came through in true surround sound.
Can't remember if I read the story of the katydid or if someone shared it with me somewhere along the way, but here is the gist of it:
There was a lovely maiden named Katy who fell in love with a handsome man. She loved him with all her heart and soul and only wanted to please him. Fate turned against her when the handsome man fell in love with her sister. The pain of seeing them together was to much for Katy and in a fit of jealous anger she killed them both. No one in town would have ever believed she killed them, but the bugs turned against her telling the towns people: Katy did it Katy did it.
Other katydid folklore:
katydids sing to bring in cold weather
3 months from the first katydid chirp there will be frost
the earlier in the summer you hear the katydids-the earlier the first frost will be that fall
the first katydid you hear in July-it'll frost on the same day of the month in September
Here's a video I made a few years back of the katydid chorus around my house:
Hope you'll leave me a comment and tell me if you've been hearing the katydids this summer too.
Tipper