Sue Cole was born in 1932. Earlier this summer, as we sit under a canopy of trees, she shared her memories of school with me.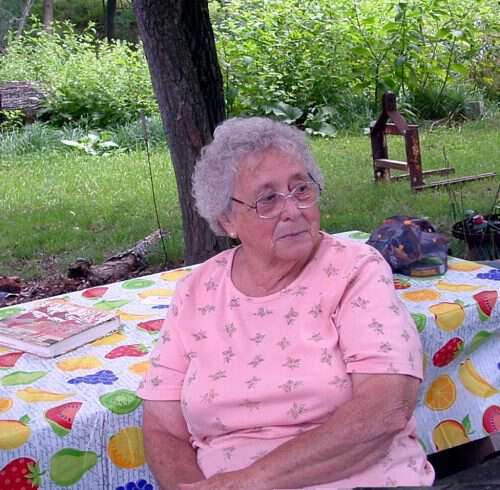 I went to Spring Hill school in Haywood County, NC. We had school about 8 months out of the year cause children had to help their parents with the planting of the garden and the harvesting of the garden.
The school had two potbellied stoves. Some of the older boys were responsible for getting in the kindling and the coal. We had to go outside to use the bathroom or wash our hands. We had a three hole outhouse and you were allowed to use three sheets of paper. There was a pump outside for getting water.
There was a cloak room in the school to put your coats in and it had a little store in it. You could buy BB Bats Candy for a penny, pencils for a penny, and tablets for a nickle. We always wrote on both sides of our tablets to make them last longer.
Our teachers were Gay and Evelyn Chambers, they were husband and wife and were also our Pastor and Sunday School teachers. Each day someone would read a Bible verse we'd have a devotion and then we'd say the pledge to the flag.
All the children looked forward to Fridays cause we had music. Mrs. Chambers would play the piano and we would sing. It was really fun.
I remember we cut out the Alphabet from paper. The paper was folded and you used your imagination to cut out the letters. We did this for art.
One thing I'll always remember, there was a little boy whose mother had passed away, he didn't have much of anyone to take care of him. Each morning when he got to school Mrs. Chambers would heat water on the stove and wash his little body. She also made sure he had food to eat each day.
Things have changed a lot since I was in school. Mr. and Mrs. Chambers were good people and that's for sure.
Hope you enjoyed Sue's memories-leave her a comment and I'll make sure she reads it.
Tipper