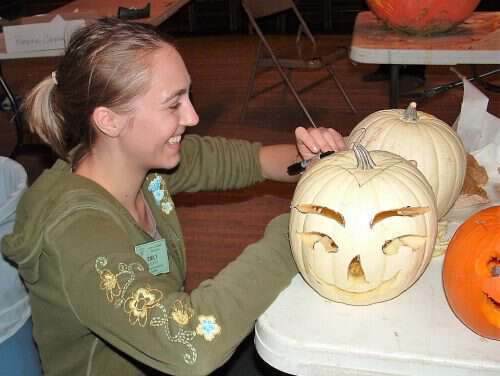 You can hardly think of Halloween without thinking of Pumpkins too. I was recently surprised to discover the tradition of carving Pumpkins for Halloween did not originate in the US, but in Ireland.
The famous Jack-O-Lantern started out as a lowly turnip or beet. In the old days folks in Ireland predominately used turnips-and sometimes beets-to make lanterns. At some point, they began using the lanterns as part of their Halloween Celebrations.
Once Irish immigrants got to the US they quickly realized the Pumpkin made a far better lantern than the turnip-thus today's Jack-O-Lantern was born.
Many old world Halloween customs made their way to Appalachia-and although they've changed slightly over the years they're still here. Ever hear this one: If a young lady peels an apple without breaking the peel; then throws it over her back; it will land in the shape of the initial of the person she will marry? This old wives tale originated in the British Isles-where it was supposed to be performed on Halloween. The traditions of trick or treating and dressing up in costumes also came from the British Isles.
The Scots-Irish who first settled Appalachia brought their heritage with them-and it seems it included most of the Halloween traditions Appalachians still enjoy today.
Tipper