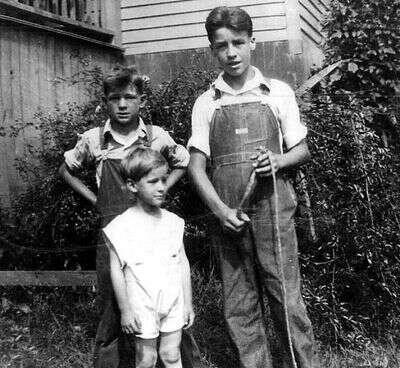 Have you ever been around someone who used the same word or words in every sentence? Years ago, I was introduced to a man who at the end of every sentence said "and what not". I remember being obsessed with listening to him to see if just once he wouldn't say "and what not". Never happened, he said it at the end of every sentence just like clock work.
A few other habitual sayings I've heard:
you know (one of The Deer Hunter's best friends says "you know" at the end of all his sentences-you know)
anyway
you know what I'm saying
now it'n it
like
ah or uh
now
well
the thing is
so
I'm sure you've heard some of the ones I mentioned, but sometimes folks habitually say things that aren't so common.
When Pap was growing up, Old Man Bud Baker lived over in the next holler. Pap said everyone loved Bud because he was a lot of fun to be around. Bud's habitual saying was "si hell". Pap said no matter what Bud was telling or talking about he always started it with si hell.
Pap said one day Bud came around telling "Si hell I killed a rattlesnake that was 5ft long yesterday." Pap's father said he didn't really believe there were rattlesnakes that big. Bud answered back "Si hell I know it was cause I measured it."
Another elder from Pap's childhood, George was fond of saying "now I hell" at the beginning of his sentences. Actually Pap said George's entire family took up the habit of saying now I hell.
George lived at the head of Pinelog and one day a trader came to see him about buying a milk cow. The trader asked if the cow was a good milker. George told him "Now I hell she gives a waste of milk." Taking that to mean she gave to much milk to use the trader bought the cow. Didn't take long for the trader to figure out the cow wasn't a good milker. He soon came around to ask about the cow's lack of milk. George said "Now I hell I told you she gives a waste of milk-enough to cream your coffee but not enough to make gravy!"
L.C., a local gentleman, is known for saying "I tell you what" at the start of his sentences. I guess my habitual saying is "well". While I don't say it at the start of every sentence I do say it quite a bit.
Well how about you, do you have a habitual saying or know someone who does?
Tipper
Today's post is a blast from the past. It was originally published here-on Febuary 11, 2009.