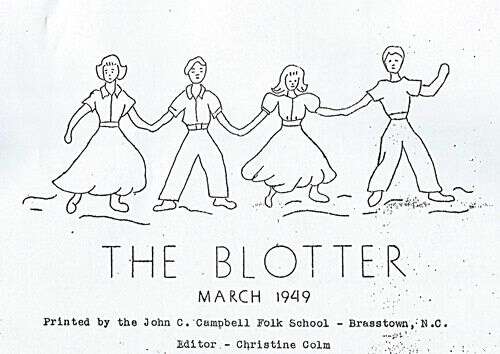 The Brasstown Blotter was a small publication published in the late 1930s and early 1940s by the John C. Campbell Folk School. In their own words: "The Brasstown Blotter aims to soak up local news, to boost local programs and enterprises, to be interesting reading."
Today I'm going to share a piece from the March 1949 issue.
CARVING
We, at long last, have a REAL CARVING ROOM–in Keith House the old weaving room–it is equipped with work benches, vises, tables, tools, and room galore, to carve everything from a napkin ring to a big tray! It is really a workshop–whittlings all over the floor. The Veterans carve three days a week, and the community carve three days. The carvings continue to sell and the new folks trying their hand all the time. I wonder how many pieces have been carved since the beginning in 1931? And just how it has helped in supplementing the farm income aside from the satisfaction and pleasure of the carver. It was a wonderful inspiration Mrs. Campbell had when she saw the old bench being "whittled to pieces!"
——
The story goes that Olive Dame Campbell (founder of the folk school) saw men talking and whittling on a bench outside of Fred O. Scroggs' store in Brasstown and said let's put your skills to work in a way that will help you and us. Olive brought in folks to teach carving and the Brasstown Carvers were born.
The carvers are still going strong today. Richard Carter, who happens to be one of my favorite people in the whole wide world, manages the carvers today. Richard cuts out all the 'blanks' for the carvers to use as they create their beautiful creations.
If you live close enough to attend, Richard leads a free carving class every Thursday night (7:00 p.m.) at the Folk School. The location of his class on the Folk School grounds varies, so if you plan to attend let me know and I'll find out where it's going to be that week. If you ever get to meet Richard be sure to ask him about the Folk School and Brasstown in general. Richard has a vast knowledge of the history of both.
Tipper
Subscribe for FREE and get a daily dose of Appalachia in your inbox