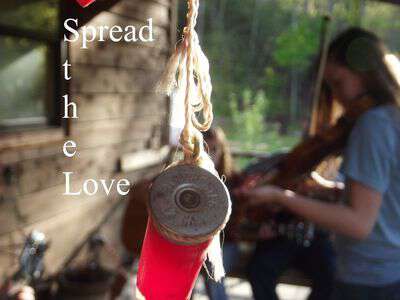 Time to Spread the Love for the month of August.
Sandy Carlson, Rick M., Cathy, wkf, Janet, Mary's Writing Nook, Paula, Kathleen, Amy, Carolyn A., Just Jackie, The Texican, Julie at Elisharose, Miss Cindy, Brenda Kay Ledford, Sheila Bergeron, Osagebluff Quilter, Dee from Tennessee, Marlene, Kim Campbell, Terry, Matthew Burns, GrannyPam, Vera, Warren, Threecollie, Helen G., Lanny, Stacey, The Fishing Guy, Kristi, Mary Traveling Hammer, Petra Michelle, SolsticeDreamer, Lisa, David Templeton, Jennifer in OR, Teresa Atkinson, Twosquaremeals, Jenny-Jenny, Greta Koehl, Farmchick Paula, Nancy M., Julie Curtis, Annie, Glenda, Sallie Covolo, Leslie, Nancy Simpson, Fencepost, Rick's Whitetail Woods, Martina, Shawnee, Shirley, Trisha Too, Brenda S 'Okie in Colorado, Debbie, Valarie, Mary Life In A Cordwood Cabin, Finnishwahine, My Carolina Kitchen, Louise, Kelli, Caution Flag, Picture Girl, Marilyn, Jeanne, Pat Workman, Farmchick, Old Red Barn Co., Randy, Emily Cole, Kay, Mary-Annies Goat Hill, Abbey Jenkins, Michelle, Dean Laughing Owl Farm, Welldigger, Dejoni, Molly, Marie, Ginger, Cre, Nancy, Keith Jones, Chirs Quinones, Rhoda-Southern Hospitality, Denese, Ed Williams, Bettyl, Catherine from The Pantry, Steve, Patty H, dmcelhoes, Pat, Misty, M. Mclain, Malcolm, Marydon Ford, Sheila, Kathy, Kat, Jack, and Eric Madison.
Each one of your comments-makes the Blind Pig a better place to visit and I thank you.
This months prize:
A jar of 14 Day Pickles. After all the pickle along hoopla-I thought someone ought to get to try a jar. The winner is…Rhoda-I hope she likes them as much as I do.
Don't forget to click on a commenters name and go for a visit-you can read about everything from an Appalachian Boy's new life in Thailand to caterpillars that devour oak leaves.
Tipper