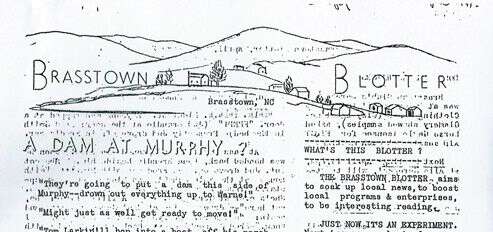 The Brasstown Blotter was a small publication published in the late 1930s and early 1940s by the John C. Campbell Folk School. In their own words: "The Brasstown Blotter aims to soak up local news, to boost local programs and enterprises, to be interesting reading."
Since the blotter was published during war time, each issue contained short notes from folks who were relocated from Brasstown to elsewhere to serve or help out in the war effort.
Today I'm going to share a piece from the April 1941 issue. Be on the lookout for more interesting tidbits from the Brasstown Blotter in the coming months.
———–
2 Men, 1 Nurse; A BRASSTOWN TRUE STORY
Cold. Dark. Midnight. A young man rapped at a door. "FRED!" (Jud Brendle at the door; Fred Smith in the bed) Presently Jud drove off in Fred's car.
At Bass Duvall's Jud phoned–in vain! Soon he was headed back, Lona Brendle beside him. She got out. Jud drove on. Now Fred was with him. **** Keith House at the Folk School was blacked out. An upstairs window finally opened. No, she's not here. She's over at Scroggses! *** A little later: "No, not here" – a drowsy voice at Neal Scroggses. *** And again: "Not here. Everybody's well here far's I know." -Fred O speaking. *** Back home: "May be with Matt Smith at Granny Scroggses," -Lenda this time. *** At Granny's she was–Nurse Gayle Isensee, a woman much in demand since she arrived last October. ***
Shortly past two in the cold, quiet hours, the young man sighed; Gayle was there. Jud sighed more heavily than Fred.
At close to 9 the morning of February 25, Brasstown's male population was up one.
CHEERS FOR THE HEALTH ASSOCIATION which gives us a competent nurse in a time of doctor-shortages.
———–
What an exciting night for Jud and his wife. I can just see him borrowing Fred's car and searching from one Brasstown abode to another trying to find the nurse to help deliver their child. Although the story doesn't clearly indicate it, I'm betting the folk school organized the health association and had a major role, if not the only role, in getting a nurse to serve the community of Brasstown.
Tipper
Subscribe for FREE and get a daily dose of Appalachia in your inbox