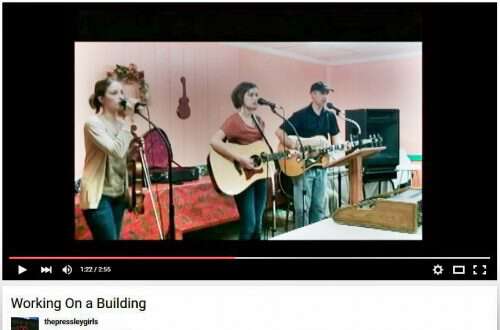 A few of you may remember, I shared a post about the song Working on a Building last October. At that time, Pap, Paul, and Chatter had been singing the song for a few months. If you missed the post you can click here to go back and read it.
We continued to do the song on through the Winter and into the Spring with Chatter singing the verses and Pap leading out the chorus with Paul and Chatter jumping in to form some great three-part harmony.
We had several performances lined up throughout late Spring and on into Summer. After Pap's accident we knew it would be a while before he was able to do any traveling around with us.
The song Working on a Building is so fun to play that one Sunday afternoon Paul got Chitter to try doing Pap's part since he wasn't feeling up to singing just yet. One thing lead to another and this is the version we came up with. I think it's pretty amazing.
Paul's guitar breaks are something else. I've woke up more than one night with that break going round and round in my head. And you can tell by the looks on the girls faces its a song they really like performing.
Hope you enjoyed the video, it was filmed at the Hiwassee Dam Opry. While Pap didn't sing on this song-we did convince him to come up to the stage and sing two songs that night.
Hopefully before long he'll be up there with us for the whole show.
Tipper