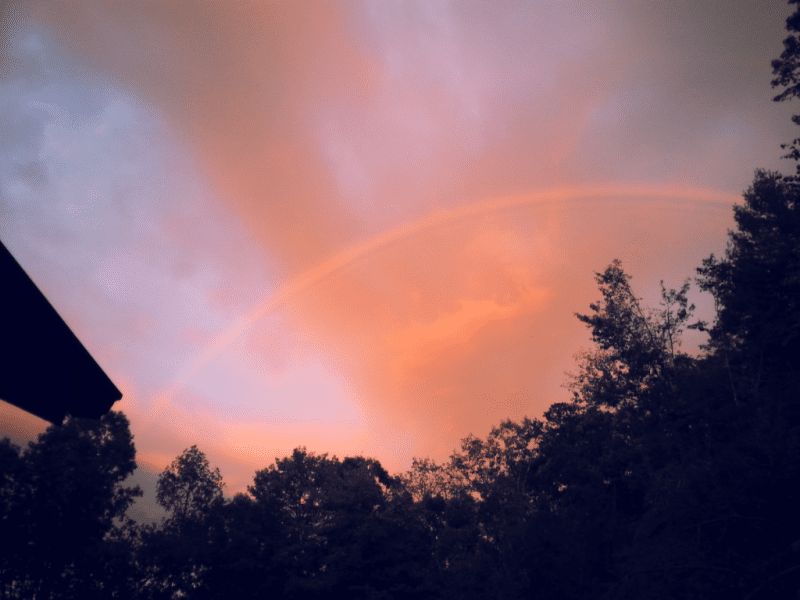 My heart leaps up when I behold
A rainbow in the sky…
~Wordsworth
———————
This beautiful rainbow arced itself across the sky the other evening. It came at the end of a long tiring day for The Deer Hunter. A full day of work along with a hard evening's work of cutting trees….with one very uncooperative tree.
Cutting an uncooperative tree within reach of your house on a slope almost to steep to stand on = a worn out man or 2 or 3.
The girls kept going out on the back deck to check the progress of the tree cutting and in that spare few minutes between dusky dark and dark there appeared the rainbow.
I've heard the old tale about pots of gold being at the end of rainbow my whole life. Even as I gazed upon this one I thought "Well it looks like one side ends in Pine Log and that's surely a pot a of gold and maybe the other end would be somewhere in Peachtree or Andrews and yep I'd say they deserve a pot of gold too."
I have no idea if the following is true Cherokee folklore, but I read somewhere that the Cherokee Indians said the rainbow was the border of the Sun's coat. The border of the Sun's coat, I like that as much as I like the pot of gold.
Tipper