Today's guest post was written by Charles Fletcher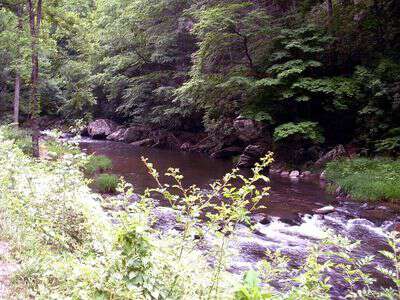 Uncle Bob written by Charles Fletcher
Before I tell you a story about Uncle Bob, you need to know a little about his brothers and their homes many years ago up near the top of a mountain in Western North Carolina.
On the Stamey Cove side of Pressley Mountain there was a family called Putnam. They were my aunts and uncles. My grandmother, Mary Putnam, married Charlie Pressley. This is how I became a part of the Putnam Clan. I will only mention three of my Putnam uncles who were sort of special to me.
There was Uncle Joe and Aunt Corey. They lived near the north side of the mountain down near the bottom. Uncle Joe was a part-time carpenter.
Then there was Uncle Wilson who lived down toward the bottom of the mountain on the east side. He was a farmer, and he kept honey bees. Uncle Wilson had two girls, Janie and Flora, and two sons, Don and Arthur. My brother and I loved to visit Uncle Wilson because the two girls would cook barley hot cakes, (flap-jacks) for us, and Uncle Wilson would be sure we had plenty of honey to pour over them.
The other uncle was Uncle Bob. He lived near the top of the mountain. Roxie was his wife's name. Their children were named Virgil, Vaudney, and Lucille.
Aunt Roxie would always cook something special for my brother and me when we went to visit them. And Uncle Bob would take us fishing in the Pigeon River, which was several miles away. Uncle Bob and Aunt Roxie were our favorite uncle and aunt to visit.
Uncle Bob was the official Game Warden in Haywood County. He was very proud of his title, and he wore his badge on his chest so everyone could see it. Uncle Bob would walk down the mountain and into the town of Canton and make sure everyone knew that he was doing his job as the Game Warden.
My family and I lived on the road leading into Canton. When Uncle Bob went by our house in the morning, he would stop for a visit. We would serve him a cup of coffee and maybe some ham and biscuits if there were any left over from the breakfast.
On one of Uncle Bob's return trips from town, he stopped by our house and said to my mom, "Ellen, I've been thinking. School is out, and those two boys of yourn need to come on home with me and stay a few days."
When my brother TJ and I heard Uncle Bob offer us a stay with him, we were all for it.
"Well, I guess it will be OK with their dad if they go and stay for about a week," Mom told Uncle Bob.
Up the mountain trail we went with Uncle Bob for what we thought would be a week of fishing and eating all the special food Aunt Roxie would make for us. But Uncle Bob had other plans for our week with him. He had cut and burned the trees off a patch of land for what he called "new ground" where he planned to plant corn. Planting corn was a long hard job because all the planting was done by hand with a hoe. His plan was to get some free help with the planting from us.
When we arrived to the house where Uncle Bob and Aunt Roxie lived, Aunt Roxie was sitting in her favorite rocking chair. There were two cats sitting in her lap, and she was petting them. She loved her cats, and if you would ask her how many she had, she could not tell you. During all the many years she and Uncle Bob had lived there on the mountain, the number of cats she kept had grown by leaps and bounds. The only way the number of cats ever decreased was when a fox or bobcat caught one for their dinner.
"Brought a couple of Ellen's boys home to visit for a few days," Uncle Bob told Aunt Roxie.
She gave TJ and me a big hug and said she was glad to have us visit them.
Little did TJ, (8 years old) and I (10 years old) know what we were in for. Shortly after we finished eating our breakfast the next morning, Uncle Bob took us to the tool shed in back of the barn and handed each of us a garden hoe and took one for himself. He then took down a bag hanging on the wall. We found out that the bag was full of corn seed to be used for planting the new ground that Uncle Bob had made for his new cornfield.
We planted corn until dinner (the noon meal), ate, rested a while, and then went back to work in the corn patch until nearly dark. This went on for two days.
When we returned back to the house on the second day, Uncle Bob said, "Well, we're done for now, and we'll take off tomorrow and go catch us a mess of fish. We'd better go out back of the barn and dig us some worms for bait."
"Need to get an early start in the morning. Long walk down the mountain and down the road in Stamey Cove to the river," Uncle Bob told us.
Aunt Roxie was looking forward to going on the fishing trip, too, and she had breakfast ready just as the sun was rising at the top of the mountain. She loved to catch fish as well as eat them just as much as Uncle Bob did. This would be the first time we had ever fished in the Pigeon River, and we were real excited.
As soon as we finished eating Uncle Bob took us to out back of the house and handed each of us a long cane poll.
"Here're your fishing poles. Be careful that you don't get a hook stuck in your finger," Uncle Bob told TJ and me.
We didn't waste any time getting started on our way to the river and a full day of fishing. The walk from Uncle Bob's house to the river took about an hour.
We set up on a large flat bank of the river. Uncle Bob put a red worm on each of our hooks. TJ and I were ready to catch some fish for supper.
TJ caught the first one. It was a hog-sucker about ten inches long. Everyone was excited about his catch. It was a larger fish than Uncle Bob usually caught in the river.
By late in the afternoon we had a wide assortment of fish on a stringer that Uncle Bob had made. We had caught hog-suckers, horney-heads, red-horse, bream, and a couple of fish that we didn't know the names of.
After the long walk back home, Uncle Bob cleaned the fish while Aunt Roxie started a fire in the stove and got a skillet ready. She was hungry and eager for a big fish dinner. Pretty soon, the best fish dinner I had ever eaten was on the dining table.
The next morning Uncle Bob told TJ and me that he had to go to Canton on some business and that we could come along with him and return to our house. It was the end of the only long visit and fishing trip that I ever had with my Uncle Bob, the Game Warden.
I didn't see Uncle Bob and Aunt Roxie again until twenty years later, after World War II. When I asked about Uncle Bob and Aunt Roxie, I learned that they had moved down off the mountain into the valley. By that time I was married and had children of my own.
Note:  This is a true story, and all the names and locations are real.
Charles Fletcher
April 11, 2013
————–
Charles also sent me the photo below which shows where his Uncle Bob and Aunt Roxie are buried.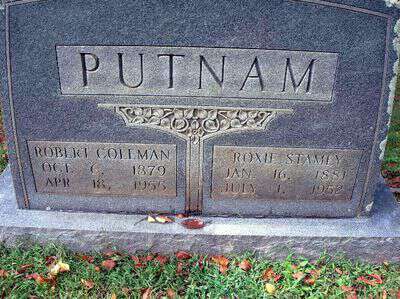 I hope you enjoyed Charles's guest post as much as I did!
Tipper