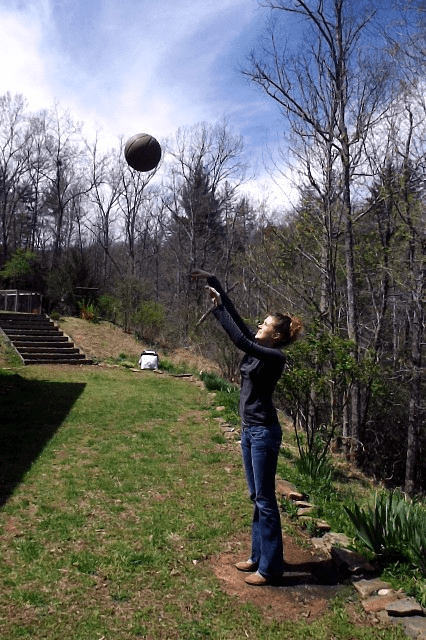 The Frank C. Brown Collection Of North Carolina Folklore describes the game of Anty Over like this:
A group of kids divide into 2 teams. The teams get on opposite sides of the house. A person out of one group has the ball and yells out "Anty" someone on the other side of the house yells out "Over" then as the ball is thrown over the building the thrower says "Over she comes!" If someone catches the ball they then run around the house and try to hit a member of the opposite group with the ball. If they hit someone that person has to become part of the other team. If no one is hit or if no one catches the ball when its thrown over, the game continues with each side taking turns throwing the ball over.
Frank C.  Brown documented the game Anty Over being played at several places in Avery County, NC in 1917.
The Foxfire 6 Book describes the game in much the same manner, but details the danger of running into another person as you run around the building. I suppose the whole team ran around to see what was going on.
I think this might have been the game B. Ruth was asking about the one that drove her Mother crazy because of the sound of the ball hitting the roof.
I couldn't help but think with the increased size of school buildings and houses this would be a harder game to play today.
Did you every play anty over?
Tipper
*Sources Foxfire 6; Frank C. Brown Collection Of North Carolina Folklore