Today's guest post was written by Eva Nell Mull, Ph.D.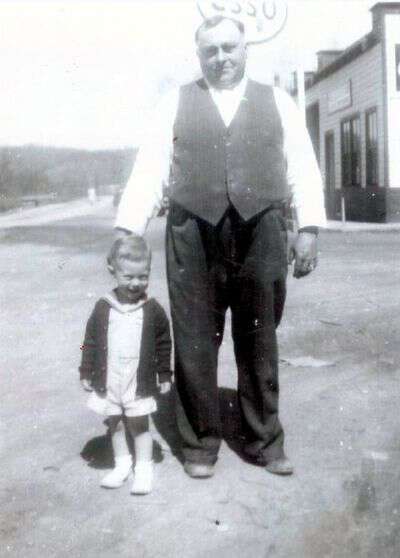 Time Runneth Against the Rolling Store by Eva Nell Mull, Ph.D.
When considering how times have changed, my mind goes back to the 'early days' when the ROLLING STORE would come a rolling through the Matheson Cove on a weekly basis. The summer time was the best time to meet the truck, hopefully with a few pennies in our hands and try to decide just what we were going to buy. Of course if we were serious about shopping, we would have brought a live hen to the ROLLING STORE to trade for whatever mama had told us to get. But just to step up on that big truck and see all those things for sale was plumb exciting!
Quiet honestly I do not recall exactly whose ROLLING STORE was so faithfully driven through the Cove on those summer days. One fellow that I am sure of, who had a store down on Brasstown and drove his ROLLING STORE on Thursdays, was Mr. William Bass Duvall. The photo I have included in this reminiscing story shows clearly Mr. Duvall and his grandson, Charles Henson. The date of this photo was about 1944, and it was made in front of the Duvall General Store.
According to Charles, who now lives over in Canton, NC, his grandpa's truck was a 1938 1-1/2 Ton Chevrolet with duel wheels. On the running board he had a 'secured' chicken coop. That may seem odd to folks today. But like I said earlier, back then if you did not have money, you could bring a healthy hen and place her in the coop. This was kind of like swiping a Credit Card – well at least a little bit! Mr. Duvall would allow you to climb up in the ROLLING STORE and make your purchase based on the worth of the hen you traded.
Things we generally purchased included coffee, sugar (if it was available), flour and especially vanilla flavoring! We never had to buy shorten as we rendered the lard at hog killing time and allers had plenty to last. But now days it seems we don't have time to look back and remember those good days. No sir! One could say, "Time runneth against the ROLLING STORE! It ain't no more!"
——————
Hope you enjoyed Eva Nell's memories about the Rolling Store-do you have any of your own?
Tipper