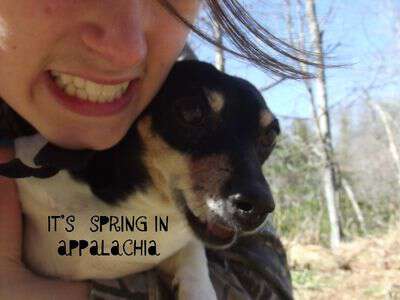 The last few days have felt like Spring here in Southern Appalachia and according to the calendar Spring arrives for real this week!
As I set in the car waiting on Granny the other day I started thinking about the word spring and wondering how many different ways we use the word to describe things here in Appalachia. Once I got home I pulled out my Dictionary of Smoky Mountain English and was pleasantly surprised to see the book has almost 2 pages of 'spring' words.
We'll start with the most obvious one: spring-a fountain head or source of a branch/creek.
In days gone by most people who lived in Appalachia got their water from a spring. Pap and Granny's house used a gravity water system fed by a spring until I was in 8th grade. The spring Pap used was about a half a mile above the house. Pap dug out the spring (a spring used previously by his Grandfather) placed the end of a length of black pipe in the water, weighted it with rocks, put a screen over the end to keep out trash; ran the pipe along the ground, buried in places, back to our house where it connected with the water system. The fall of gravity along the pipe kept it filled with water until you turned on the tap allowing the water to flow freely.
While we had spring water fed into our house, in Pap's early days the water stayed at the spring and had to be carried into the house when needed. Pap said in those days getting water and keeping wood cut for cooking and/or for heat in the winter was more than a full time job. (Granny said "That's why there was less meanness, people didn't have time to be mean!")
Spring house-a small building of log or rock built around and over the spring to protect the spring-and to allow for perishable items to be kept safely by the spring where the temperatures were low.
Spring box-a box set in a spring to keep items cool.
Spring run-a trough in a spring house which allowed items to be set in a stream of water to keep them cool.
Tipper